MHWirth Pile Top Drill Rigs for Mumbai Trans Harbour Link
Pile top drill rigs (PBA) by MHWirth are supporting the boom in India's Infrastructure. They provide solid foundations for constructions onshore and offshore, among others for one of India's flagship projects, the Mumbai Trans Harbour Link (MTHL).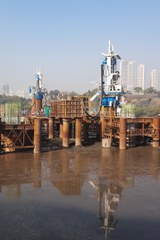 Five Wirth
TM
PBAs 818 are currently in operation at the Mumbai Trans Harbour Link (MTHL) project. MTHL will be a 21.8 km long road bridge, connecting the city of Mumbai with Navi Mumbai, its satellite city. MHWirth PBAs are currently drilling around 1,100 piles with diameters of 1,750 and 2,150 mm and depths of up to 50 m. 
Efficient technology for challenging infrastructure projects
These days, many infrastructure projects are characterized by increasing constructions, resulting in higher loads on the structures. To be efficient and competitive in such projects, the construction sector requires large foundation diameters.
MHWirth PBAs cover the diameter range from 0.6 to 8.0 m and, compared to conventional technologies, they provide the most economical solution for foundations in mixed formations and rock as well as for deep foundations. More than 350 pile top drill rigs by MHWirth have proven to be outstandingly reliable and efficient in numerous projects around the world.
About MHWirth 
MHWirth is a leading global provider of first-class drilling solutions and services designed to offer our valued customers with the safer, more efficient and reliable alternative. MHWirth has a global span covering five continents with offices in 12 countries. Our 1,550 dedicated professionals consistently strive to enhance customer satisfaction and form meaningful collaborations by creating a personalized experience.
Contact
MHWirth
Kerstin Richter
Senior Advisor Product Marketing & Communications
Kölner Straße 71-73
41812 Erkelenz
Germany
Phone:
+49 2431 83 358
E-Mail:
Kerstin.Richter@mhwirth.com
Internet:
To website