Message from Tom Iseley, Director of UNITRACC International
As the director of the Trenchless Technology Center (TTC) at Louisiana Tech University (LA Tech), I am pleased to accept the responsibility for serving as the director of UNITRACC international. I have monitored the development of UNITRACC education and training platform for over 20 years as developed by Stein & Partner Consult GmbH (S&P).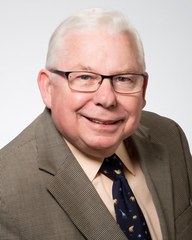 I have known Dr. Dietrich Stein and his wonderful wife, Molly, for almost 30 years, and I have known their son Dr. Robert Stein for over 20 years. Robert work with me at the Purdue School of Engineering and Technology, IUPUI (Indianapolis) while he was pursuing his Ph.D. at the Ruhr-University in Bochum (RUB), Germany.  Prior to Dietrich's retirement from RUB, he and Molly visited TTC, and I was able to visit his program on several occasions.
In 1988, I transitioned from Purdue University to LA Tech with a vision to establish a university/industry/government cooperative research center. With the support and assistance of the university's administration and the hard work and dedication of graduate students, the TTC was established in 1989. During the years which followed, I had the opportunity to serve as a founding director of NASTT (North American Society for Trenchless Technology) which is an affiliate chapter of ISTT (International Society for Trenchless Technology). During this time Prof. Dietrich Stein was a leader/officer of GSTT (International Society for Trenchless Technology). We had the unique opportunity of working together on an international basis to advance the underground infrastructure industry.
In 2003, I had the opportunity to serve as a senior advisor to Commissioner Jack Ravan for the Department of Watershed Management for the City of Atlanta (COA), Georgia during Mayor Shirley Franklin's administration. I was instrumental with the establishment of the water asset management program in an effort to meet the COA's almost $US 4 billion consent decree. This initiative resulted in the formation of BAMI-I (Buried Asset Management Institute-International), a 501 C(3)  non—profit professional organization. In 2006 BAMI-I was selected for a USEPA (US Environment Protection Agency) grant program "Establishing a Pathway for Achieving Water Utility Infrastructure Management Excellence". This project was completed in 2008. TTC served as a subcontractor to BAMI-I to utilize their Municipal Forum program to assess the needs of utilities throughout the US regarding the need to develop and implement best business practices for water utilities. It was determined that education and training was critical for meeting the needs of the global underground infrastructure industry. To meet this need BAMI-I launched their first e-learning CTAM (Certification of Training in Asset Management) course in 2010. CTAM has evolved into a comprehensive 4-course online learning experience with the ability to be certified at the Associate and Professional levels as Water Asset Managers.
I am very excited about TTC and BAMI-I joining the UNITRACC team. As director of UNITRACC international, in addition to being responsible for international representation, I will oversee the distribution of UNITRACC's professional training program which will include adapting each module to US standards and the certification of participants.  I will be assisted by a team of experienced and dedicated individuals at TTC. These include Ms. Greta Vladeanu, UNITRACC course director; Mr. Saleh Behbahani, my assistant and CTAM / UNITRACC manager, and Ms. Fredda Wagner, TTC office manager. Greta has completed extensive training on UNITRACC at S&P headquarters in Bochum.
Our team is committed to the highest standards of quality for education and training with many years of experience for academic, municipal and industrial applications for representatives ranging for entry level to senior management and political decision makers. We understand the advantages of classroom and electronic (online) learning. E-learning provides the advantage of opening up educational opportunities to an entire population who would not be able to access such opportunities from conventional resources. UNITRACC has been established to enable practitioners to truly engage in life-long-learning. The most effective learning is obtained when individuals need the knowledge to support their efforts to solve problems and meet challenges. This means individuals need access on a 24-hour-7-days a week basis. UNITRACC has been developed to provide practical and effective support during the career development of professionals to increase critical and innovative decision-making skills. The goal is to provide on-demand learning in the workplace to assist technicians, engineers and decision makers in their project work.
The first e-learning module being launched is "Replacement of water, wastewater and gas pipelines." It will be available on December 1, 2016. This module will be followed by second module "Installation of water pipes, drains and sewers using the open cut method" in early 2017.
The "Replacement of water, wastewater and gas pipelines" module consists of 7 lessons related to pipe bursting, welding of plastic pipe, geotechnical and hydrogeological principles, etc. At the end of each lesson, there is a self-test designed to assist the individual in assessing their comprehension of the contents previously covered. The program is uniquely designed to effective suggest the correct response and directs the individual back to the supporting pages.
I wish to encourage you to join with us now. Do not delay. We want to be your partner when it comes to training and education. You will find UNITRACC to be very flexible to meet your needs today and as well as for continuous professional development. You will have access to the world's most powerful learning experience utilizing the highest quality of graphics, and animation and simulation. We have a support staff eager to assist you with your needs on the job when they emerge.
Contact
Trenchless Technology Center / Louisiana Tech University
Ph.D., P.E., Dist. M. ASCE, PWAM Tom Iseley
Dan Reneau Dr
LA 71270 Ruston
United States
Phone:
+1 (318) 257-2852
E-Mail:
iseley@unitracc.com
Internet:
To website