MEGAL builds new natural gas pipeline in Bavaria
Mittel-Europäische Gasleitungsgesellschaft mbH & Co. KG (MEGAL), a joint venture between Open Grid Europe GmbH and GRTgaz Deutschland GmbH, is investing over €110 million in natural gas infrastructure in southern Germany.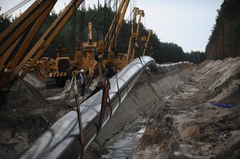 In March 2012, the Essen-based company is scheduled to begin construction work on a 72-km natural gas pipeline from Schwandorf (Upper Palatinate) to Windberg (Lower Bavaria).
For the most part, the new natural gas pipeline will be laid parallel to the existing MEGAL pipeline between Oberkappel and Schwandorf.
The need for this expansion was determined by assessing and analysing demand by means of an "open season" procedure. This procedure, which was conducted in accordance with European regulations, aims to expand the overall gas network in a way that is efficient, environmentally friendly and in line with market conditions and consumer needs.
Although the new Schwandorf-Windberg natural gas pipeline will be supplying regional customers in Bavaria, it is not only of importance for that region.
As MEGAL Managing Director Hans Jürgen Plattner emphasises: "The new Schwandorf-Windberg natural gas pipeline will also play an important role in the integrated European natural gas transmission system - this is because the new north-south connection creates additional transportation capacity to Austria."
Commissioning is scheduled for 1 October 2012.