Medit Inc. Adds New VIPER ADV Pipe Inspection Camera to their Product Line
The New VIPER ADV Pipe Inspection Camera is well suited for exploring ducts, pipelines, mains and sewers. Viper ADV is a Compact and Durable Device with Enhanced Design Greatly Increasing Camera's Maneuverability in the Pipe.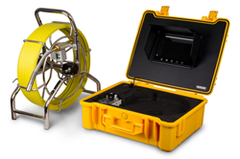 Medit Inc, big online supplier of NDT equipment and one of the acknowledged leaders in the market in North America and around the world, is pleased to introduce the VIPER ADV Pipe Inspection Camera – an advanced viewing device that meets various remote visual inspection requirements.
The VIPER ADV Camera is an inspection tool that can travel past multiple corners and bends within pipes without impairing image quality. The wide PVC-coated fiberglass insertion probe with a long spring joint at the end makes the whole process of inserting the probe in the pipe and maneuvering past obstacles to the area of interest much easier. Increased durability and pushability of the probes expand the area of camera's application allowing to perform any type of inspection from residential check-ups to inspecting city mainlines and
industrial pipelines.
The camera comes with a Ø 23mm (1.0") camera head equipped with a high-definition CCD chip and protected by a Sapphire lens against harsh and aggressive environments. Integrated highly intense LED lights illumination allows to examine the problem area in great detail. Light intensity can be adjusted by using control buttons on the control unit or a remote control.
The control unit is equipped with a wide (9") TFT LCD color display and easy-to-use control buttons. The whole unit is packed into a lightweight, waterproof case featuring an SD card slot and a video output for transferring inspection images to an external monitor. All the data can be viewed and saved either as JPEG images or AVI video.
The VIPER ADV Pipe Inspection Camera's 6.5mm insertion probes are available in 2 lengths - 40 m (131.2') and 60 m (196.8'). The system comes with a compact durable reel that allows to use as much insertion probe as required without it getting in the way of the inspection.
Other characteristics that contribute to the camera's high efficiency are: built-in 512Hz frequency sonde to locate camera head's in the pipe, a length counter informing the operator of how much of the insertion probe has been inserted, and two centering skids to make sure the camera head is placed exactly in the center of the pipe.
The camera can be reviewed and purchased at Medit´s Industrial Web Store
Contact
Medit Inc.
Terry Peristerakis
96 Sherbrook Street
R3C2B3 Winnipeg
Canada
Phone:
+1 1-877-613-2210 Ext: 708
E-Mail:
terry@meditinc.com
Internet:
To website