MDPCL successfully complete unique pipe bursting project using the Grundoburst 400S
A recent CCTV survey identified that the cause of repeat sewer blockages at Paget Road, Barry was caused by numerous grade 4 defects in the nearby 300 mm diameter public sewer. To make matters worse, the location of the sewer being so close to properties meant that traditional open cut techniques of pipe replacement was not an option. MDPCL were asked to find the quickest, least disruptive solution to the problem.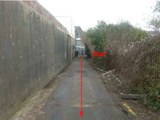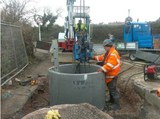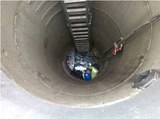 As operators and owners of one of only two "400S" pipe bursting rigs in the UK, MDPCL asked the question "could we modify the 400S rig to burst this large diameter pipe from within an existing manhole".
MDPCL immediately begun talking to TT-UK Ltd (Europe's largest manufacturer of trenchless technology equipment) and the decision was made to manufacture a bespoke bursting head to allow the rig to operate from within the manhole.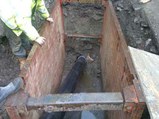 A spokesman from TT-UK Ltd stated that the task was indeed possible as it has been carried out once in Russia albeit a slightly smaller diameter pipe. Both MDPCL & TT-UK Ltd were in agreement that this was a unique opportunity to confidently demonstrate the capability of their equipment.
The solution was put forward to Kelda Water Services (Wales) Ltd who agreed that this was indeed the best option and instructed work to proceed. Replacing the old vitrified clay sewer ND 300 with a PC pipe ND 250 mm over 58 m length from within the existing manhole took only ten days including jobsite preparation and reinstatement works.
Contact
TT-UK Ltd.
UK-Bedford MK 42 9SU
Phone:
+44 1234.342.566
Fax:
+44 1234.352.184
E-Mail:
info@tt-uk.com
Internet:
To website