MC-Bauchemie opens new company in Denmark
At the end of August 2018, MC-Bauchemie founded a new sales company in Denmark, MC-Bauchemie Danmark ApS. The new affiliate is based in Slangerup in the Copenhagen area.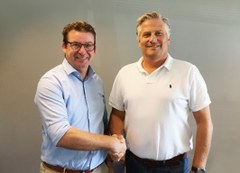 Klaus Lebæk and Walter Devue have been appointed as managing directors of MC-Bauchemie Danmark ApS.
Klaus Lebæk (55) brings a wide range of experience with him, including ten years as sales manager for an international manufacturer of building materials and components. At MC, he will focus in particular on the Building Distribution market segment (builders merchants and DIY stores).
This also includes system building materials as well as professional-quality building and shower boards, which are marketed and distributed under the Botament label.
In addition, MC-Bauchemie Danmark will be responsible for the distribution of MC bitumen products, injection systems and product systems for the repair of underground infrastructures, all of which have been successfully sold from Germany for many years.
Walter Devue (44) has worked for MC-Bauchemie for seven years, the last three of which as Regional Manager responsible for MC business in Belgium, France, the Netherlands, Slovakia, the Czech Republic and now also, combined with his appointment as Managing Director, Denmark.
"The establishment of the Danish company will enable us to pool all previous activities of MC-Bauchemie in Denmark and the rest of Scandinavia. Currently, these are managed from Germany," Walter Devue explains.
"Our aim is to build a platform for expanding our market position in Denmark and the rest of Scandinavia," states Klaus Lebæk, adding: "I look forward to applying my many years of experience and knowledge of the building materials market with a view to extending the success of MC-Bauchemie."
About MC-Bauchemie
MC-Bauchemie Müller GmbH & Co. KG is a leading international manufacturer of building chemical products and technologies. Headquartered in Bottrop, Germany, the group of companies with over 2,500 employees operating in more than 40 countries around the world has – in the 50-plus years of its existence – consistently made a name for itself through the development of advanced solutions for the treatment of concrete and the protection and maintenance of buildings and structures.
In February 2018, MCBauchemie was awarded Germany's TOP JOB employer seal of approval. This accolade goes to companies that have been particularly effective in creating a healthy yet still high-performance workplace culture.
Contact
MC-Bauchemie Müller GmbH & Co. KG
Saki M. Moysidis
Communication
Am Kruppwald 1-8
46238 Bottrop
Germany
Phone:
+49 2041 101 640
Fax:
+49 2041 101 688
E-Mail:
saki.moysidis@mc-bauchemie.de
Internet:
To website