Maria L. Pérez Vergara New Managing Director of MC-Bauchemie in Belgium
On 1 June 2019, Maria Luisa Pérez Vergara (34) has been appointed Managing Director of MC-Bauchemie Belgium N.V. In this function, she is responsible for the Belgian business of MC-Bauchemie together with Benoit Verbiest (59).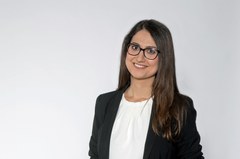 After studying civil engineering at the University in Valencia (Spain), Maria Luisa Pérez Vergara joined MC-Bauchemie at its headquarters in Bottrop in 2011 as a Country Manager.
For the past three years, the graduate civil engineer has been working as a Business Development Manager at MC-Bauchemie and, amongst others, successfully supported the MC business in Belgium, the Netherlands, Spain, France, Slovakia and the Czech Republic in the economic and strategic development of the market segments Concrete Industry and Infrastructure & Industry.
In addition to her new leadership role as Managing Director and the expansion of the business in Belgium, the native of Spain will continue to work as a Business Development Manager for strategic projects in the Benelux countries to promote the development of MC-Bauchemie in this region, too.
About MC-Bauchemie 
MC-Bauchemie Müller GmbH & Co. KG is a leading international manufacturer of building chemical products and technologies. Headquartered in Bottrop, Germany, the group of companies with over 2,500 employees operating in more than 40 countries around the world has – in the 50-plus years of its existence – consistently made a name for itself through the development of advanced solutions for the treatment of concrete and the protection and maintenance of buildings and structures. 
Contact
MC-Bauchemie Müller GmbH & Co. KG
Saki M. Moysidis
PR-Manager
Am Kruppwald 1-8
46238 Bottrop
Germany
Phone:
+49 2041 101 640
Fax:
+49 2041 101 688
E-Mail:
saki.moysidis@mc-bauchemie.de
Internet:
To website