Manor farm harvests heat
Manor Farm is situated on some of the most fertile planes in rural Bedfordshire. It is located on the edge of the beautiful village of Eyeworth and was constructed in 1865. Traditional arable and livestock farming methods were the order of the day on this once very busy farm.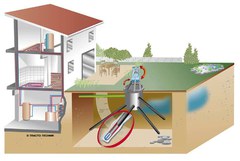 In 1859, Thomas Aveling self propelled a Clayton & Shuttleworth portable engine to form the very first traction engine. By the end of the 1860's the traction engine had evolved and marked a significant change in farming methods., particularly at harvest time. Manor Farm was worked to it's full potential but little did anyone realise a lucrative hidden crop lay undisturbed under that same land eventually to be harvested for the first time 150 years later.
This delightful Georgian-style farmhouse and buildings were recently purchased by Charles and Karen Sterling as a family home, together they drew up a sympathetic detailed restoration and modernisation plan of the building. This incorporated under floor heating and with Cº2 emissions, operational efficiency and lowest running costs in mind, they opted for a Ground Source Heat Pump to provide heating and hot water. So would begin the harvesting of sustainable Geothermal Energy whenever required, significantly reducing their heating costs.
Following careful consideration of the Heat Well's design and in conjunction with ground water drillers and geothermal heat well specialists, Warren Ecological, the Geothermal Radial Drilling (GRD) method was chosen. Bob Evans, Warren's Managing Director, said GRD provides a completely integrated drilling technique and solutions to a number of issues with this type of retrofit project. Warren were working with Roland Amey Renewables, the warm side designers, to install the NIBE Ground Source Heat Pump.
GRD is the innovative geothermal slant drilling system from manufacturers TT-UK (GRD) Ltd, part of the TT Group. GRD is designed to search out the most rewarding geology maximising heat well efficiency. Use of all land within the plot boundary can be considered without affecting its future use. Importantly it is also quite simple to increase the heat well capacity at a later date if for example the property is increased in size.
The project called for a total heat requirement of 30 kW, ten x fifty metre long bore holes would be drilled radially spaced to avoid borehole interference at varying angles between 65º and 35º down, over a radius of just 180 º
The Job site set up was rapid due to careful planning by Warren; the GRD 4R rig, just 1.5m wide, weighing 2700kg, was tracked and connected to its pre-positioned drill chamber for the whole of the drilling process. This completely avoids any potential damage to the immediate environment and garden. The integral drill rod and casings lifting hoist was then erected and the HSE safety platform connected, this reduces the rigs spindle rotation to a safe max 10 rpm when connecting and disconnecting all drill rods and casings to one another.
A Geological Survey indicated a mixture of clay, silt and sand, so water flushing using a conventional three winged drag bit, constant displacement pump and three settlement tanks were used. The Geology Report turned out to be reasonably accurate; geology was recorded rod by rod from the first bore to prove the drill plans and heat extraction values. The Geology remained the same throughout. The last 31 metres of every bore hole was green sand. This was cut and flushed out using a drag bit, constant displacement pump and a three settlement tank water recycling method. All borehole cuttings were returned into the settlement tanks avoiding ground or airborne overspill, leaving a clean and tidy site. TT-UK (GRD) have also developed a single container (skip) water loss method, where the pump recycles the flushing fluid which collects the cuttings and deposits them in a skip displacing the water. When full the skip is removed and a replacement provided if required.
With the first borehole at 50m long x 65º down, all drill rods were extracted and a Fusion co-axial (pipe inside pipe) collector was installed with grouting tube and pressure tested using a digital datalogger with an analogue pressure gauge back-up. This data is recorded for inclusion in the GRD Heat Well Owner's Manual which also includes the drill plan, geology report, bore hole geology (real time) drill log and property heat requirement calculations.
All borehole collectors were made from one piece PE100/SDR 11 material and connect to the manifold fitted to the inside of the drill chamber.
Grouting: Following satisfactory pressure test results, grouting was carried out using thermal conductive ready mixed grout powder. A small integral hopper is filled with dry grout and mixed with water to the correct viscosity to suit both ground water flow rates and bore hole conditions. This took place from the bottom up by draining the grout pipe as the annulus filled. All drill casings previously supporting the integrity of the bore hole were then removed. Finally, the flow and return pipe connections were made between the drill chamber and plant room with continuous pipe lengths and all manifold connections made.
Evans concluded by saying "not only does the GRD method provide an intelligent and assured drilling process, the heat well owner should he wish to increase his heat well size at any time, the drill rig can be re-connected and additional boreholes added". (New property extensions etc).
This GRD heat well has now been in use for nine months; Charles Sterling said the combination of GRD and his Ground Source Heat Pump has been exceptionally efficient, particularly through this past extremely cold winter and he looks forward to this effortless intellectual Geothermal harvesting serving his family for year ahead.
Contact:
TT UK LTD.
10 Windsor Road
Bedford MK 42 9SU
PH.: +44 (0)1234.342.566
FAX: +44 (0)1234.352.184
E-Mail: info@tt-uk.com
Internet: www.tt-uk.com

Contact
TT UK Ltd.
42 9SU Bedford MK
Phone:
+44 1234.342.566
Fax:
+44 1234.352.184
E-Mail:
info@tt-uk.com
Internet:
To website