Manila Water Introduces Innovative Wastewater Technology
Mar 01, 2013
Sludge treatment
For the first time in the Philippine water utility industry, the Manila Water Company, the Ayala-led water concessionaire in Metro Manila's East Zone, has pioneered the use of a unique and advanced dewatering technology to effectively treat wastewater and lessen sludge from treatment plants, called as the Geotube® technology after its Innovations (R&D) team worked on it.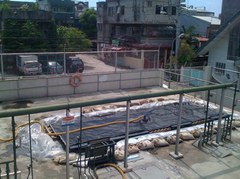 The Geotube® is a very good complement to the company's environmental protection programs and advocacies, while at the same time, maintaining the high-quality standards and services that Manila Water has been known for in the past 14 years. "Since Manila Water started using the pioneering technology, we have been very happy with the outcome as it is more efficient and beneficial resulting to a 90 per cent reduction of solid sludge volume, said Geodino V. Carpio, Manila Water's Operations Group Director. Previously, Manila Water needed to transfer and haul the generated waste activated sludge to septage treatment plants in San Mateo, Rizal and FTI in Taguig for its dewatering process. But with the Geotube® technology, the operational expense due to hauling process is significantly reduced. The technology works by conditioning the sludge before it goes directly to a Geotube® container, a disposable and recyclable environment-friendly vessel. Through the process of dewatering, clear water simply drains from the Geotube® container, after which, the remaining excess sludge will be brought directly to the landfill or transported to lahar-devastated areas.

As Manila Water continues to expand, it is also perceived to generate increasing volumes of sludge due to the increasing number of sewage treatment plants. An additional increase in waste activated sludge is also expected to double, which will be addressed by the Geotube® technology.
Contact
Manila Water Company Inc.
Katipunan Road
1105 Quezon City
Philippines
Phone:
(6-32) 917-5900
E-Mail:
info@manilawater.com
Internet:
To website