Making the Right Sewer Rehab Choice
Deciding When to Choose Spot Repair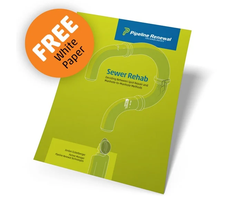 Keeping sewers operational means wasting no resources. Sewer rehab is especially resource-intensive, so deciding exactly how to repair a defect is crucial. Central to this decision is whether to use localized rehab (spot repair) or a comprehensive (end-to-end) alternative.
In this white paper, we present a detailed guide to making this decision, including the variety of factors to consider, from the type and extent of damage to access constraints, adjacent environmental features and line criticality. We also explore some common misconceptions that lead cities to the wrong decision.
Take steps to maximize your rehab budget by downloading this FREE white paper today.
Contact
Pipeline Renewal Technologies
111 Canfield Ave.
NJ 07869 Randolph
United States
Phone:
+1 866 346 0860
E-Mail:
mail@pipelinert.com
Internet:
To website