Lovat Inc. designs RME140SE Earth Pressure Balance TBM for cable tunnel in Croydon, United Kingdom
The infrastructure services company Morgan Est plc. of Rugby, England has contracted with Lovat Inc. for the purposes of design and manufacture of a 3.6 metre diameter Lovat RME140SE Earth Pressure Balance TBM. This will be the latest TBM to complement Morgan Est's fleet of Lovat TBMs which range from 2.3 to 4.4 metres diameter.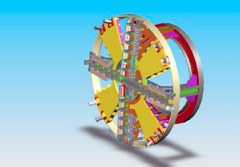 Morgan Est is to build a 10 km cable tunnel on behalf of National Grid in Surrey, England. The 3 metre-diametre ID tunnel will be comprised of rings of 1.2 metre-long 6-piece trapezoidal pre-cast reinforced concrete segments (produced by Morgan Est at their new segment manufacturing facility in Kent). The tunnel will be built between two existing substations and will replace two 275 kV cables that currently run underneath local roads and a major highway.
The EPB-TBM will be running at a depth from 8.3 m to 83 m above the tunnel crown. An EPB pressure up to 2.5 bar is expected. The entire tunnel alignment is through local Upper Chalk with frequent occurrences of flint and mixed gravel.
The cuttinghead will be powered by 4 No. 113kW (452kW total) water-cooled Lovat-standard variable frequency drive electric motors which will provide the cuttinghead with 1,200 to 2,300 kN*m of torque from 1.8 rpm to 3.4 rpm.
The TBM is designed for operation with EPB pressures up to 8 bar, an instantaneous rate of advance of 100 mm/min and a target completion of 3 No. 1.2 metre-long rings per hour.
The TBM is scheduled for delivery in January, 2007.