Louis Bencardino Performs Excavation and Tunneling Work for the Septa 69th Street Station Electrical Upgrade
Difficult tunneling performed safely and efficiently under one of the busiest SEPTA transportation hubs.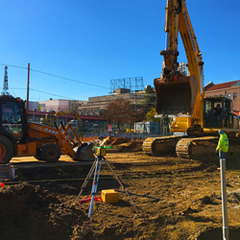 Louis Bencardino announced that Bencardino Contractors has been hired by Vanalt Electrical Construction and is now finishing a complex tunneling and boring project for an electrical upgrade at SEPTA's 69th Street Station using innovative and cost saving techniques. By safely boring and tunneling under eight (8) sets of existing in-use train tracks a lot of commuter frustrations have been spared.
This important project performed for SEPTA by Bencardino and Vanalt Electrical Construction was performed safely and efficiently; largely due to good planning.
"Bencardino Excavating continues to improve its capabilities by using innovative techniques and performing precise work," said Tom Haenn, project manager at Bencardino Excavating.
"The most difficult part of this project was the tunneling and boring under the eight (8) sets of tracks that are some of the busiest for Septa because it is a main hub for them. We had to get special clearances to go out onto the track to do test holes by hand to ensure when tunneling and boring we didn't hit any active electric or water lines. This process took about a week to complete."
"From there Bencardino excavated one pit on each side of tracks approximately 18 feet deep so the boring could begin. Bencardino had to monitor the active tracks for vibration and settlement when the boring was complete. Vanalt Electrical Construction installed a thirty (30) way duct bank thru the boring casing and Bencardino installed pressurized grout to seal the casing. The duct bank feeds a sub-station that will be the main electric feed for Septa in this area," Louis Bencardino noted.
The video shows Bencardino is nearly finished this important electrical upgrade project at SEPTA's 69th Street Station.
Bencardino Excavating consists of a team of 85 construction professionals and skilled crafts people who are dedicated to performance and productivity. Founded in 1988 by Louis A. Bencardino, we're a family-run business - doing big jobs, but keeping relationships small and personal.
Contact
Bencardino Excavating
1423 Wells Drive
PA 19020 Bensalem
United States
Phone:
+1 215-244-6000
Fax:
+1 215 244-6442
Internet:
To website