Look Beyond Five-Year Plans, MP Tells Water Industry
The water industry needs to move beyond the five-year regulatory price review if it is to deliver for customers and the environment, Angela Smith MP told a gathering of over 200 water industry professionals at a British Water networking event.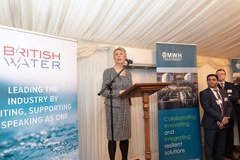 Addressing the association's annual Winter Reception, held at the House of Lords on 6 February, she said, "The profile of those five-year investments doesn't help the industry at all and I don't think it helps the supply chain." Instead she urged meaningful commitment to services and infrastructure development and "regulatory flexibility in terms of long-term planning for investment."
Smith, who is co-chair of the All Party Parliamentary Water Group, praised the "new rigour" with which the regulator is discharging its responsibilities and agreed with Ofwat chief executive Rachel Fletcher's view that it was necessary to "think about water companies as social enterprises." Reflecting on the regulator's initial assessment of utilities' plans for 2020-25, she advised them to be more ambitious on delivering for customers and the environment.
"Standards have to be raised in every respect," she said. "Challenge is necessary and the regulator needs to use its levers to ensure greater efficiency, better customer service and value for money."
Smith praised the sector for its global reputation and potential to contribute further to national prosperity. She told attendees that in a post-Brexit UK it will be even more essential to find opportunities for the sector to export its water expertise around the world.
"Our industry, with its mature and forward-looking supply chain, has the potential to help provide solutions to these global challenges," she said. "Whether we leave the EU or not, our government should be more proactive in helping our industries to sell their products and expertise globally."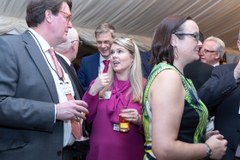 Ms Smith said she was "excited" by the potential offered by smart technologies and outlined the pressures identified by the National Infrastructure Commission relating to climate change and population increase and "the need for measures to reduce the demand for water, increase supply and create transfer capacity."
She said, "New infrastructure offers us the option too of opening up the industry to new operators and perhaps a more pluralistic culture in terms of ownership. If a mutual option were to emerge for commissioning and operating a new source of water supply, for instance, why would we not want to encourage that?"
British Water chairman Chris Loughlin took the opportunity to highlight British Water's 25th anniversary year and to thank out-going chief executive Lloyd Martin for his "fantastic legacy" which would be built on by Lila Thompson. He also called on the water industry to do more to increase diversity and attract women to the sector.
The British Water Winter Reception was sponsored by MWH Treatment, J Murphy & Sons, Xylem Water Solutions, Advance TRS, Cranfield University, Trant Engineering, Veolia, VolkerStevin, Wood and WrC.