Long rock bores are a good match for Robbins MSBU
Robbins announces its newest Trenchless product, the Robbins Motorized Small Boring Unit (MSBU). The Robbins MSBU is a technically advanced type of Robbins' Small Boring Unit (SBU). Both Robbins MSBUs and SBUs are used in conjunction with an Auger Boring Machine (ABM). The MSBU, a rock boring attachment, can be steered continually throughout the drive. The MSBU can also bore longer drives and through harder rock than the SBU.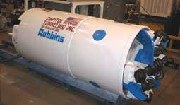 Robbins' Motorized Small Boring Unit is available in a range of diameters from 48 inches to 72 inches (1.2 m to 1.8 m). Hydraulic or electric motors with a gear reducer directly coupled to the cutterhead provide torque to the MSBU, while the ABM supplies forward thrust. A small invert auger is used for muck removal.  
The MSBU and SBU are designed to excavate medium to hard rock; however, both machines can be fitted with cutterheads that bore through mixed ground conditions. In either case the machines excavate by means of disc cutters, which are mounted to the front of the head. Cutterheads for mixed ground feature ripper teeth, drag bits, and disc cutters. The cutters can be either single disc or 2-row tungsten carbide bits.
Both the MSBU and SBU are made to bore through a variety of rock strengths and types with an Unconfined Compressive Strength (UCS) of 4,000 psi to over 25,000 psi (25 to over 175 MPa). The MSBU, however, can bore through hard, abrasive rock more effectively since the cutters can be changed at any point during the drive, eliminating the problem of removing the casing on longer tunnels in harder rock.
The Robbins MSBU can be steered to maintain line and grade for the entire bore due to the articulating front shield. Operator's consoles are located both in the bore pit and inside the machine's shield. A laser is set up in the back of the bore pit and is projected onto a target inside the machine. The operator can control the machine from inside or from the bore pit to keep the machine on target. Steering the MSBU is achieved using stabilizer pads and articulation cylinders that pivot the machine on an articulation joint.
The MSBU is currently boring successfully on several projects around the world, including one of the most extensive pipeline projects ever undertaken in the UK. A Robbins 48" (1.2 m) MSBU and two Robbins 48" SBUs are currently excavating 60 crossings ranging from 60 to 300 ft (20 – 90 m) as part of the 75 mile (120 km) long Milford Haven to Aberdulais Pipeline in South Wales, UK. As of mid-August the MSBU and two SBUs are performing very well at rates of 5 – 7 ft (1.5 – 2.0 m) per hour. On August 3, 2006, the MSBU finished its first crossing of 230 ft (70 m).
For more information contact:
Tom Fuerst (Trenchless Group Manager)
Phone: +1 (440) 914-4192
Email: fuerstt@robbinstbm.com

Dave Long (Western U.S. Trenchless Group Manager)
Phone: +1 (253) 872-4488
Email: longd@robbinstbm.com

Web: www.therobbinscompany.com

Media contact:
Brianna Home (Marketing Director)
Mail: marketing@robbinstbm.com
Phone: +1 253 872 0500