Less fouling ? more efficient RO: German and Israeli ministries fund research project
The German Federal Ministry of Education and Research (BMBF) and the Israeli Ministry of Science and Technology (MOST) have launched a research project with 1.5 million euros of funding. The three partners in the project are Dresden Technical University, the Ben-Gurion University of the Negev in Israel, and the German company inge watertechnologies AG, which specializes in ultrafiltration and membrane technology. The aim is to find ways of reducing fouling and scaling in membranes – especially in the context of treating municipal waste water – in order to improve the membranes' performance and durability and ultimately improve the efficiency of a reverse osmosis (RO) plant.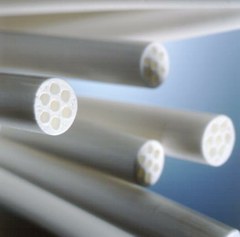 What are the key factors involved in membrane fouling? How can we reduce or even eliminate fouling? Is there any way of protecting membranes from the most severe fouling in order to improve their performance? These are just some of the questions being tackled by a specially formed German-Israeli research team. Natural water resources are scarce in Israel and the quality of the water that is available is often poor. Water treatment is therefore high on the agenda of the Israeli government, particularly the task of recycling municipal waste water for the purposes of irrigation. The problem is that waste water generally contains a whole host of organic and colloidal substances that can cause or aggravate membrane fouling. Before building even more plants for waste water treatment and desalination, the decision has been taken to investigate how to sustainably improve their efficiency over the long term. The plants in question use what is known as the Multiple Integrated Membrane System (MIMS), an arrangement that consists of a pre-treatment stage using ultrafiltration membranes, followed by a reverse osmosis stage with the most fouling-resistant or energy-saving RO membranes available.
Estimates suggest that the cost of desalinating secondary waste water is only around a third as high as the cost of seawater desalination, providing that the concentration of non-dissolved solids and the salt content are low enough. Yet these calculations only apply as long as the greater strain placed on the membranes by the waste water does not lead to significantly higher fouling rates in both the ultrafiltration and RO membranes. The aim is to find a solution to this fouling problem by conducting scientific tests in the laboratory environment and in a water treatment plant in Israel near Beer Sheva.
Martin Heijnen, head of membrane development at inge watertechnologies AG, sums up: "We are delighted that our inge AG team has been chosen once again as a partner in an international research project. We have been carrying out major development and research work over recent years to continue enhancing the unique patented membranes developed by inge AG. It is fantastic to see our experience being put to use in a project that benefits everyone, and it will be tremendously exciting if we manage to optimize the membranes to make water treatment even more efficient. Ultimately, we are simply pleased to be making another small contribution towards solving the world's water problems."
Contact:
inge watertechnologies AG
Flurstraße 27
86926 Greifenberg
PH.: +49 8192 / 997-700
FAX: +49 8192 / 997-999
E-Mail: info@inge.ag
Internet: www.inge.ag