Leica Builder Series Total Stations for Non-Technical Construction Professionals
Scaled family of five models designed to address varying jobsite needs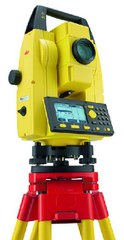 Leica Geosystems announces the Leica Builder Series Total Stations designed for construction contractors or anyone on a construction site requiring an easy-to-operate, full-feature measuring tool. From simple tasks to professional all-day use, the Leica Builder offers a scaled product family of five different models to meet the varying needs of most construction jobs. Contractors can choose from the 100-, 200-, 300-, 400-, or 500-Series models.
The Leica Builder Series is designed for non-technical construction professional to easily perform positioning, layout, or dozens of other daily construction-site tasks. To facilitate data transfer, some models feature a USB port - an industry first - while the 500 Series also has Bluetooth functionality.
The Leica Builder Series offers the choice of two operation modes. Contractors can operate in 'stand-alone' mode via the on-board PowerSite construction programs with the memory capabilities to collect, store and download data. Or there is an application available for contractors who prefer to use a data collector. The Builder can be coupled with the Leica DX-10 data collector and Siteforeman software.
On-board PowerSite software is designed specifically for construction applications, eliminating surveying features that contractors may not need. Contractors do not require a surveying background in order to use the PowerSite software.
Intended for the construction site, the Leica Builder is designed to withstand dust, water, and other environmental conditions with an IP55 rating.
The entry model Leica Builder 100-Series is an electronic digital theodolite for horizontal and vertical angle measurements. Subsequent models, Leica Builder 200, 300, 400, and 500, are total stations available with reflectorless and/or prism measurement capabilities, data storage via USB memory stick and wireless communication for more useful functionality.
All instruments are equipped with theft protection and support many different languages of which three can be uploaded and switched at the push of a button. The Leica Builder is delivered packaged in a handy, crush-proof transport case with a set of accessories for out-of-the-box use.
Contact:
Leica Geosystems Inc.
Andre Ribeiro
Director of Marketing
Atlanta, GA 30092
United States
Tel.: +1 (770) 326-9557
Fax: +1 (770) 447-0710
Internet: