Leak Masters wins contract for sound transit north link extension tunnels
Leak Masters, one of the nation's elite water leak detection companies, was awarded the underground leak detection contract for Sound Transit's North Link commuter rail extension tunnels.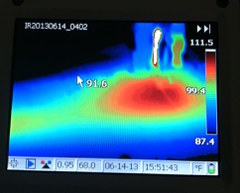 This is the second contract in a row for Leak Masters; the company provided similar services when Sound Transit bore the U Link connection between downtown Seattle's Capitol Hill neighborhood and the University of Washington.
Starting October 28, 2013, Leak Masters will survey geographic areas where the lead contractor, JCM Northlink LLC, is scheduled to dig new Sound Transit tunnels between NE 60th Avenue NE to the South, NE 75th Street to the North, 12th Avenue NE to the East and 15th Avenue NE to the West. During key construction milestones and after the tunnels are complete, Leak Masters will ensure no water lines were damaged. Leak Masters' leak prevention services will help construction contractors protect the tunnel's integrity, plus better assure the safety of hundreds of residential, commercial and municipal properties in the commuter rail's vicinity including Roosevelt High School, Roosevelt Reservoir and Froula Park.
Water leak detection services are critical to the success of major construction projects like the Sound Transit extension. Existing water lines can be directly compromised when earth is dug for a new project or indirectly via vibrations from construction equipment. Steady undetected water loss can be costly for the affected city or property owners while presenting potential human safety hazards.
Leak Masters uses sophisticated ultrasonic listening equipment to detect below ground water leaks. This technology allows the highly trained ear to pinpoint affected areas with remarkable accuracy. Leak Masters' reports enable builders to find, dig and repair minor water leaks before they become major problems. Professional leak detection services can help builders protect the structural integrity of building foundations, sewer lines, buried utility lines and major transit tunnels while preventing water waste, land erosion and high utility bills.