Leading the Way with Mecana for Low Effluent P Concentrations
Although there has been a significant reduction in the amount of Phosphorus discharged to rivers from Wastewater Treatment Works in recent years (from 21,000 tonnes in 1995 to 8,000 tonnes in 2015), Phosphorus remains the main cause of water quality failures with the primary source still being wastewater discharges. Consequently, it is expected, due to the requirements of the Water Framework Directive, that over 700 Wastewater Treatment Works will require Phosphorus removal during AMP7.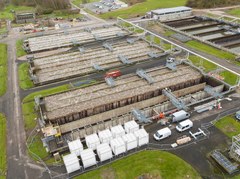 The Pile Cloth Media Filter was developed by the Mecana company in Switzerland during the 1990s, with over 50,000 m
2
of cloth now installed around the world. Eliquo Hydrok brought this technology to the UK in 2013 and since this time have been at the forefront of its development.
This has included, what was then, the largest ever installation at Deephams Wastewater Treatment Works (Thames Water) in 2014, treating up to 4,200 l/s, and the world's first large-scale two-stage application at Cirencester Wastewater Treatment Works (Thames Water) in 2016 as part of the Chemical Investigation Programme trials.
This trial clearly demonstrated the capabilities of the Mecana process as, with ferric salt dosing, it proved able to achieve <0.1 mg/l Total Phosphorus discharge continuously and reliably. No other process in these nationwide trials proved capable of emulating this achievement.
Severn Trent Water realised the benefits of this technology and have committed heavily to it during AMP6 with some eleven projects deploying the Mecana process, one of these being at Goscote Wastewater Treatment Works, serving Walsall in the West Midlands.
This site requires a significant upgrading due to the imposition of a stringent new ammonia consent, a 0.2 mg/l Total Phosphorus consent (the lowest in the Severn Trent Water region during AMP6), and a tight iron consent of 2.5 mg/l.
The design team were subject to a series of challenges, including the presence of mine workings, cost reductions and the possibility of 'out performance' to deliver 7 ODI points worth £7m to Severn Trent Water.
A key part of this success is the adoption of a two-stage Mecana installation with iron salt dosing, which when commissioned in early 2019, will be the largest such application in the world, treating 719 l/s; Eliquo Hydrok are providing and installing the four flocculation tanks, six SF21/105 Mecana units and all the associated pipework.
Eliquo Hydrok have worked closely with the main contractor, Mott MacDonald Bentley, and Severn Trent Water throughout the project to ensure the project delivers high quality effluent at the right price.
Contact
ELIQUO HYDROK LTD
Indian Queens Ind Estate, St. Columb,
TR9 6TL Cornwall
United Kingdom
Phone:
+44 1726 861 900
E-Mail:
sales@eliquohydrok.co.uk
Internet:
To website