Launch of new concept for production of single-stage peroxidecrosslinked polyethylene pipes with Borealis BorPEX™
A group of major European equipment technology developers and material producers, together with Borealis, a leading provider of innovative value-creating plastics solutions, have joined forces to design a single-stage production process for high-performance peroxidecrosslinked polyethylene (PE-Xa) pipes.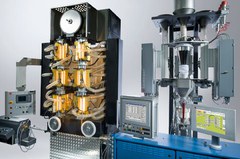 The cooperative project involves Finland-based Crosslink Finland Oy, which produces infrared crosslinking units; Hans Weber Maschinenfabrik in Germany, which has developed some of the best twin-screw extruders available for this technology; German company, iNOEX, which supplies innovative dynamic mixing, dosing and control units; Borealis, which has developed two new grades in its BorPEX™ range of crosslinkable high molecular weight, high density polyethylenes especially designed to suit this production process; as well as AkzoNobel, who delivers the suitable type of peroxide and Ciba who provides the additives.
The new concept delivers a combination of all the necessary components for a ready-to-use PE-Xa production process, capable of delivering high-speed, high quality output. "Up to now, processors had to select the different components needed for the production on their own, without having all the specific know-how," says Norbert Jansen, Borealis Application Marketing Manager. "This was not only time and cost-intensive, but there was no guarantee that the end result would be satisfactory, neither from a quality nor from a production efficiency point of view."
PE-X pipes are used in gas and domestic water distribution systems, district heating and other industrial applications that benefit from the high temperature and chemical resistance of crosslinked polyethylene, as well as its flexibility, very high impact resistance at low temperatures and high creep resistance.
Direct peroxide injection by iNOEX
PE-Xa pipe manufacturers generally buy the polyethylene, the peroxide and associated functional additives (antioxidants, UV stabilizers, etc) separately and dry-mix them in a batch process. With the iNOEX dosing and control equipment, this can now be done continuously, in-line with the extrusion and crosslinking steps.
The combination of static and dynamic mixing procedures in the iNOEX SAVEOMAT multi-component dosing station ensures that liquid and solid materials are merged into a homogenous mixture. Part of this process is the integrated nozzle system which injects the peroxide during the mixing process to ensure that the granulate is homogenously wetted.
High-performance twin-screw Weber extruders
Twin-screw extruders have become the preferred process method for producing PE-Xa pipe, due to their ability to offer superior mixing and safe homogenisation without overheating.
Weber twin-screw extruders run at extremely low temperatures and with short residence times and short residence time distribution, serving to avoid any decomposition of the peroxide in the extruder.
The extruders use optimized screws with low friction and minimal dead zones; processors can choose from various screw designs. The machines have optimized die head geometry, with special die coatings.
Borealis high performance PE-X grades in powder and pellets
BorPEX HE1878E was specifically designed to be the high-speed solution for such machinery set-ups as Weber extruders combined with Crosslink Finland Oy's infrared crosslinking technology. Supplied in powder form, it offers a well-balanced molecular weight and higher MFR than traditional PE-Xa resins, as well as a combination of other significant advantages, such as effective mixing and high crosslinking response.
More recently, Borealis has developed BorPEX HE1878E-C2, a fully formulated compound in mini-pellet form that only requires the addition of peroxide to produce PE-Xa pipe. Mini-pellets are easy to handle and help eliminate housekeeping and safety issues caused by dust.
High-power infrared from iNOEX
The pipe is crosslinked immediately after it emerges from the extruder head by heating it with high power short wavelength infrared radiation. The special infrared heating concept is based on the use of wavelengths of light that penetrate the pipe wall, crosslinking the entire wall at once. This process leads to short heating times and also includes special vacuum calibration methods to calibrate the pipe to narrow tolerances.
As a result, pipes with outside diameters of up to 32 mm can be produced at line speeds of up to 25 m/min, with low scrap rates and long continuous production runs. The extruder can be continuously operated without down-time for cleaning.
Long lifetime performance by CIBA additives
Ciba is the experienced manufacturer of additives for the plastic industry and provides a broad knowledge to the pipe industry. The stabilisation secures a good protection of the polymer during the pipe forming process and the demanding environment during the years in the hot water system.
Safe handling and dosing with AkzoNobel organic peroxides
AkzoNobel is a world class producer of organic peroxides, having the broadest range of peroxides for all industrial applications. In the PE-Xa area, AkzoNobel has been involved in the development and fine-tuning of high performance cross-linking peroxides from the very beginning. Without doubt, important safety aspects have always played a crucial role in these developments.
In June, the PE-Xa pipe production concept was presented to approximately 300 guests invited to the production facility of iNOEX, located in Bad Oeynhausen/ Germany. "For Borealis, it has always been important to work closely with our technology partners to create innovative solutions that provide added value for the pipe producer and the value chain," says Veronika Ettinger, Marketing Manager Business Unit Pipe. "The cooperation with these leading enables us to bring benefit to a sector where our customers can now unlock their considerable potential for substantial new growth and further substitution of traditional materials."
Brochure download under
www.Borealisgroup.com
under infrastructure/plumbing & heating systems.
Contact:
Borealis AG
Borealis Head Office
Wagramerstraße 17–19
A-1220 Vienna, Austria
PH.: +43 (0) 1 22 4000
FAX: +43 (0) 1 22 400 333
E-Mail: kerstin.meckler@borealisgroup.com
Internet: www.Borealisgroup.com