Lateral liner wanted: fitted, no crease and tight
Fitting accuracy, flat surface and leaktightness: the latest IKT-Product-Test "Liners for Laterals" shows which liners fulfil the requirements of the network operators. The marks range from "VERY GOOD" to "POOR". Even the best liner, however, is not always free of malfunction.

Rehabilitation of public and private sewers
The rehabilitation of laterals is becoming increasingly important. With high proportions of extraneous water the cost-intensive rehabilitation only really makes sense if the private sewers are rehabilitated, too. However, laws as well as standards require tight laterals such as §45 NRW-Bauordnung
(building regulations North Rhine Westphalia)
and DIN 1986. The technical demands on the rehabilitation of laterals with cured-in-place pipes (CIPP) are tremendous. They have far smaller diameters (e. g. DN 150 and smaller) than public collector lines. They are often marked by tight bends up to 90 degrees. Furthermore, in many cases the accessibility is far more limited than in public space. In addition, numerous practical investigations by IKT show that their damage rate is clearly higher than the one of "large" sewers, namely more than 70%. For this reason the NRW Ministry of Environment and 14 sewer network operators wanted to learn more about the suitability of cured-in-place pipes for rehabilitating laterals. They all put the IKT - Institute for Underground Infrastructure in charge of the product test "Liners for laterals". The following network operators participated in the product test:
Abwasserwerk Stadt Bergisch Gladbach
Stadtentwässerungsbetrieb Düsseldorf
Stadtentwässerung Göttingen
Stadt Hilden
Stadtentwässerungsbetriebe Köln AöR
Stadt Neuss
Niederrheinische Versorgung und Verkehr AG (NVV)
Stadtwerke Quickborn
Stadt Recklinghausen
Entsorgungsbetriebe Warendorf
Staatliches Hochbauamt Würzburg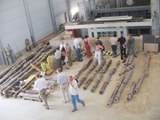 Together with IKT, in the meetings of the steering committee the 14 network operators developed the test programme, selected the test candidates and assessed the test results afterwards.
Liner in the test
The IKT-testers assessed the following eight liners:
BendiLiner, EasyLiner GmbH
Brawoliner-Fix, KOB KG
DrainLiner, epros GmbH
DrainPlusliner, epros GmbH
Flex-Liner, ALOCIT Chemie GmbH
Konudur Homeliner, MC Bauchemie Müller GmbH & Co. KG
ProFlex Liner (prototype), VFG AG
SoftLiner, EasyLiner GmbH
Contact
Dipl.-Ing. Gunter Kaltenhäuser (IKT – Institute for Underground Infrastructure)
45886 Gelsenkirchen
Phone:
+49 209 17806 47
Fax:
+49 209 17806 88
E-Mail:
info@ikt.de
Internet:
To website