Larson Electronics Releases High Output Explosion Proof LED Flashlight with 5 Modes
LarsonElectronics.com has announced the addition of the EXP-LED-RL-FX5R Explosion Proof Rechargeable LED Flashlight to its growing line of portable and handheld explosion proof lighting equipment. U.L. and ATEX approved for hazardous location lighting, the EXP-LED-RL-FX5R is Class 1 Division 1 certified and an ideal portable lighting solution for operators in hazardous locations who require more than just a simple flashlight.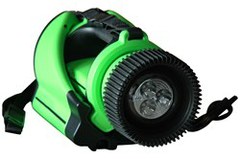 The EXP-LED-RL-FX5R Explosion Proof Rechargeable LED Flashlight is a highly versatile and rechargeable LED lighting solution for hazardous location operators who require Class 1 Division 1 compliance as well as durability and high power. This powerful yet light weight LED light is built from impact resistant ABS plastic and fitted with a shatterproof LEXAN lens to provide high durability and easy handling. This versatile explosion proof LED flashlight is equipped with a set of forward mounted LEDs for standard operation, and a group of three rear-facing LEDs for signaling and location beacon operating modes.
The forward-facing LED lamp assembly on this explosion proof flashlight is adjustable to allow operators to either use the light as a standard flashlight, or set the light down and angle the beam as needed for temporary work area illumination or simple hands free lighting. This rechargeable flashlight has 5 operating functions which are controlled by a single trigger switch and are activated simply by repeatedly depressing the trigger. Operators can toggle through all the operating modes with one hand easily and quickly without fumbling with confusing settings or switch positions.
Some of the ratings and approvals for this light include intrinsically safe, Class 1, Div 1, Groups A, B, C, & D, and UL 913 certification. The EXP-LED-RL-FX5R has a 10 hour runtime on a single charge of its integral 6 VDC nickel metal hydride batteries and offers the convenience of rechargeable operation with the power and versatility of multiple operating modes, making it ideal for law enforcement, gas and chemical plant operations, ship and railroad based operations, mining, and petrochemical plant operators.
"The EXP-LED-RL-FX5R explosion proof rechargeable LED light is one of the very few lantern style options with both LED and Class 1 Division 1 ratings," said Rob Bresnahan with Larson Electronics' LarsonElectronics.com. "Gas utility operators will find this LED light particularly useful."
Larson Electronics' carries an extensive line of explosion proof LED lights, hazardous location lights, intrinsically safe LED lights, portable explosion proof lights and intrinsically safe LED flashlights. You can view Larson Electronics' entire line of explosion proof lighting at LarsonElectronics.com. Larson Electronics' can be reached directly by calling toll free, 1-800-369-6671 or 1-903-498-3363 for international inquiries.