Kingdom of Bahrain presents National Master Plan for Sanitary Engineering at the Underground Infrastructure Middle East 2010
The National Master Plan for Bahrain was developed during 2008/09 within the framework of the project "Consultancy Services for the Development of a National Master Plan for the Sanitary Engineering Services of the Kingdom of Bahrain" that was commissioned by the Bahrain Ministry of Works. The plan identifies the investment requirements for sanitary engineering services for the next 20 years and covers the whole wastewater system including sewers, wastewater treatment plants, the surface water drainage systems, and the bulk distribution system for the treated sewage effluent.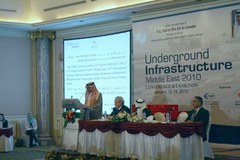 Some of the proposed suggestions in the National Master Plan for Bahrain are:
Rehabilitation of damaged sewers to reduce groundwater infiltration rates (high priority)
Use as many gravity sewers as possible (Deep Gravity Sewers)
Use of new construction techniques such as Micro-Tunnelling
Proposed new trunk sewers = 121 km (2/3 as micro tunnel)
Limit the number of pumping stations to a minimum (proposed construction of 13 new pumping stations and decommissioning of 64 existing pumping stations)
Increase the amount of reuse of waste water
During the first Underground Infrastructure Middle East conference and exhibition that took place from 18-19 January 2010 in Bahrain, national and international experts came together to discuss the National Master Plan as well as latest developments, strategies and techniques in the fields of tunnelling, trenchless new installations, pipe and sewer rehabilitation and asset management.
With approximately 300 participants from 13 nations, 25 exhibitors/sponsors and 30 presentations the event was a great success and a good basis for further developing Bahrain into a regional hub for the underground infrastructure industry in the Middle East and it provided some interesting ideas for the implementation of the National Master Plan.
Preparations for the next Underground Infrastructure Middle East in January 2011 are already underway. Then new solutions for supply and urban public transport will be included in the Underground Infrastructure Middle East 2011. Latest updates are available at
www.underground-infrastructure.com
.
Contact:
EITEP – Euro Institute for Information and Technology Transfer in Environmental Protection GmbH
Dennis Fandrich
Am Listholze 82
D-30177 Hannover (Germany)
PH: +49 (0) 511 90992-22
Fax: +49 (0) 511 90992-69
E-Mail: fandrich@eitep.de
Internet: www.eitep.de

Contact
Euro Institute for Information and Technology Transfer in Environmental Protection GmbH (EITEP)
E-Mail:
fandrich@eitep.de
Internet:
To website