Kick off of the International Year of Water Cooperation in Paris
Irina Bokova, the Director-General of UNESCO; Michel Jarraud, UN-Water Chair and Secretary-General of the World Meteorological Organization (WMO); and Hamrokhon Zarifi, Minister of Foreign Affairs of the Republic of Tajikistan have launched the International Year of Water Cooperation 2013 at UNESCO Headquarters, in Paris. The Year was proclaimed by the United Nations at the initiative of Tajikistan and UNESCO has been designated by UN-Water to coordinate activities during the year.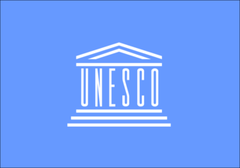 The launching ceremony featured a video message from UN Secretary-General Ban Ki-moon and messages from the Presidents of Kenya and Mongolia.
The participants stressed the central role of water in ensuring sustainable development, public health, poverty alleviation and combating the effects of climate change.
"Water is not just one subject among others, it is the central subject of international cooperation," said the Director-General of UNESCO […] In 2010, the UN General Assembly recognized water as a human right and this must now be translated into reality. In a world where 300 water basins are shared between several countries, this can only be achieved through cooperation," Ms Bokova said.
"More than 780 million people still do not have access to improved water and two and a half billion people have no access to improved sanitation services," stressed the Chair of UN Water as he advocated reinforced cooperation in this area. He pointed out that that 40% of all natural disasters concern water, whether drought or flood, and voiced strong support for "UNESCO's effort in favour of water diplomacy as an essential instrument of dialogue and cooperation to create a more peaceful world."
Hamrokhon Zarifi, Minister of Foreign Affairs of the Republic of Tajikistan for his part declared that "we need to strengthen water diplomacy to achieve the 2015 [deadline] of the Millennium Goals. Only close cooperation can secure the achievement of water goals for people, the environment and the economy. […] We must make this year, a year of strengthened mutual understanding, cooperation and dialogue."
France's Minister Delegate for Development, Pascal Canfin, stressed the importance his government gives to environmental sustainability through water cooperation. He pledged France's commitment to help especially Saharan Africa overcome growing water shortage. "The Millennium Development Goals regarding water have almost been reached, but the objectives that they set out are insufficient as they do not address the issue of [water] quality."
Launching events continued during the day, notably with the participation of young people from France, Japan and the Netherlands at a youth event hosted by the municipality of Paris at the Pavillion de l'Eau.
During the launch ceremony, Mega Kumar of India presented her slogan for the International Year of Water Cooperation: Water, water everywhere, only if we share." Ms Kumar's slogan was chosen from over 12,000 slogans submitted as part of a world-wide competition.