Join Us to Tackle Fatbergs at Source, Says GCA
UK water utilities are being urged to collaborate with the Grease Contractors Association (GCA) to help tackle the blight of fatbergs at source. The Association has introduced an auditing and certification programme for companies carrying out the installation and maintenance of grease traps and is inviting water and sewerage companies to get on board.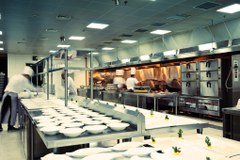 Every year UK utilities spend about £100m clearing an estimated 300,000 fatbergs from sewerage. The blockages are comprised of congealed fats, oils, grease (FOG) and solid waste deposited into the network.
Fatbergs can cause misery for householders as sewage backs up into homes. They also pose a health and safety risk for workers tasked with the unpleasant job of removing them.
The GCA raises awareness of the relationship between sewer blockages and food hygiene and grease management in food service establishments (FSEs) and is taking the lead on best practice in the maintenance of grease traps and management systems in food establishments.
GCA chair Lila Thompson said, "We have worked closely with a very experienced auditor to build a tailored programme that will serve all stakeholders well. Companies have to comply with the core criteria and all regulations that pertain to the sector.
"They also have to demonstrate that their staff are properly trained and retrained to carry out best practice installation and maintenance of grease management systems in commercial kitchens."
The GCA audit includes best practice in site surveys for installation of equipment, waste management, spill control and staff training. Companies have to evidence compliance with legislation and regulations including waste disposal and health & safety along with evidencing that they have environmental and quality management systems in place that meet ISO9001 and ISO14001 standards.
Thompson added, "Utilities can have confidence that contractors audited by the GCA have properly trained staff and are delivering best practice in equipment installation and maintenance. We hope this level of consistency and raising of standards will be welcomed by the industry and I urge utilities to collaborate with the Association in this spirit."
The GCA was set up and is administered through British Water.
Contact
Grease Contractors Association - British Water
Mar Batista
Technical Manager
Vox Studios, Unit V103, 1-45 Durham Street
SE11 5JH London
United Kingdom
Phone:
+44 (0)20 3567 0950
E-Mail:
mar.batista@britishwater.co.uk
Internet:
To website