John Holland to Deliver Connors River Dam to Moranbah Pipeline in Central Queensland
John Holland has been selected as the preferred tenderer for the construction of the $400 million proposed Connors River Dam to Moranbah Pipeline in Central Queensland. The project involves the construction of 136 kilometres of large diameter buried pipeline that will carry around 45,000 megalitres of water per annum from the proposed Connors River Dam to the Bowen Basin and surrounding areas. When completed, the project will help meet the increasing water supply reliability and security needs of the region's booming resources sector.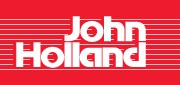 "John Holland has a strong partnership with SunWater that has been built over a number of successful projects over the last 40 years, along with a industry leading reputation in the delivery of vital water security projects," said Glenn Palin, John Holland's Group Managing Director.
"The award also consolidates our position as one of the leading major contractors in Queensland; we look forward to the extension of our partnership with SunWater and the successful delivery of these works over the coming years," Glenn said. Gavin Stubbs, General Manager of John Holland's Northern Region said the award extends John Holland's long standing and successful partnership with SunWater.
"We are extremely pleased with this result and we are looking forward to working alongside SunWater over the next six months to finalise design and approvals for the project," Gavin said. He continued, "The project will involve the construction of one reservoir, several bored and open creek crossings, several watercourse and road crossings and storages. The delivery of a construction camp and associated road works are also included in the project scope."
It is expected that John Holland will be confirmed as the Principal Contractor when the final investment decision is made by SunWater's Board in March 2012. The pipeline is part of the Connors River Dam and Pipeline Project which will supply water to the existing and new coal mines being established in the Bowen basin and surrounding area.
Contact
John Holland Pty Ltd
Richard Baker
70 Trenerry Crescent
2009 Pyrmont, Sydney
Australia
Phone:
02 9552 4288
Fax:
02 9660 0410
E-Mail:
richard.baker@jhg.com.au
Internet:
To website