Investment in water services set to continue
Households in the North West will see hundreds of millions of pounds poured into improving their water services over the next 12 months.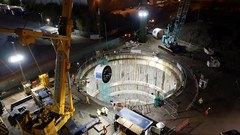 Water company United Utilities is planning to spend the money over the coming financial year to deliver vital engineering schemes which will safeguard future water supplies, reduce water leaks and sewer flooding and help protect rivers and bathing waters.
In Lancashire work is continuing in Blackpool on schemes at Anchorsholme Park and Lennox Gate at a cost of more than £100m. This will reduce sewer spills on the Fylde Coast, building on recent improvements to local bathing waters. By the end of this year work is due to start on a multi-million pound upgrade to the wastewater treatment plants at Blackburn and Darwen, to help improve water quality in the River Ribble. And a £70m upgrade at Morecambe wastewater treatment works will help improve the environment for shellfish and bathing waters in Morecambe Bay.
In Greater Manchester work will continue on a £200m modernisation programme at Davyhulme wastewater treatment works in Trafford, to improve the level of treatment and allow the works to keep pace with the increasing population of Manchester. And in Oldham an £80m project to improve water quality in the River Irk continues with the construction of a new sewer pipeline and new processes at Oldham wastewater treatment works. By the end of this year work is due to start on a £20m upgrade at Failsworth wastewater treatment works and a £22m project to build additional storm water storage at Snipe Clough and other locations in the Oldham area, reducing pollution into the River Medlock.
In Cumbria work will start on a new £300m pipeline to transfer water from Thirlmere reservoir to West Cumbria, helping safeguard water supplies and protect sensitive environments like the River Ehen. In Kendal a £12m upgrade of the town's wastewater treatment works will help improve water quality in the River Kent. Ulverston will also benefit from a £22m project to reduce pollution of local watercourses during heavy rain, and work will continue in Carlisle on a £13m project to clean key water mains across the city.
In Cheshire there will be a series of improvement projects at a number of wastewater treatment plants, including a £13m scheme at Winsford, £20m at Crewe and £45m at Ellesmere Port. These will all help to improve the quality of water returned to local rivers, bringing benefits for wildlife and the local community.
These schemes are all part of a £3.5 billion investment programme for the North West's water and wastewater network, running between 2015 and 2020.
The investment will be part funded through customers' water bills which, on average, are set to rise from April 1 to around £419 per household, up £8 on last year. The increase of 2 per cent is due to inflation and is in line with other regions of the UK.
Louise Beardmore, United Utilities' customer services director, said: "Back in 2015 we committed to keeping customers' bills as low as we possibly could over the next five years while still delivering all the service improvements that our customers expect.
"The small increase in bills this year is less than the rise in inflation. It means householders in the North West will have all their water and sewerage services for around £1.14 a day, half the price of a cup of coffee on the high street. "We know for many of our customers that any rise may put more pressure on them as they juggle household bills. We have lots of ways we can support people who might need help to make their water bill more manageable.
We are here to help whether that's a payment scheme which might help or other advice on how to lower your bill and save money."
Contact
United Utilities Group PLC
Lingley Green Avenue
WA5 3LP Warrington
United Kingdom
Phone:
+44 (0) 3456 723 723
Internet:
To website