Introducing the 1325B Lubrication and Bentonite Pump
Akkerman announces the addition of the 1325B Lubrication and Bentonite Pump to its line-up of guided boring lubrication solutions. The 1325B is a hydraulically-driven, high pressure bentonite pump for effective pilot tube lubrication and flushing of cuttings, particularly on long bores and downward slope alignments.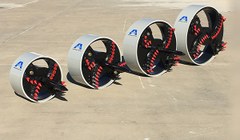 The robust 1325B Lubrication and Bentonite Pump is ideal for guided boring, guided auger boring and soft rock projects using the Rock Drill Adapter and Tri-Hawk® drill bit as well as pressure cleaning applications. The unit will displace a Marsh Funnel viscosity as high as 50 seconds to flush cuttings with impressive pump flow up to 6 gpm (22.7 L/min) at 2,600 psi (17,926 kPa).
The pump meets a full spectrum of project requirements to handle a viscosity range of slurry up to 50 Marsh Funnel seconds. The 325 gallon (1,230 L) tank features in-tank agitation for aggressive and continuous mixing. The 1325B can independently agitate or agitate and pump to maintain mud viscosity. The 325 gallon (1,230 L) tank presents enough fluid capacity for the average 400-lf. (122 m) bore.
The 1325B is powered by an electric start Kohler® gasoline engine with 14HP (10 kW) and a 1.9 gal (7.3 L) fuel tank. Not only is the 1325B Lubrication and Bentonite Pump robust, it is also simple, safe and reliable. There are few moving parts, no belts and a shrouded agitator. The stepped platform makes it easy for operators to access or fill the tank. The battery is located inside a plastic housing to eliminate contact with operators. If the pump runs dry, it will not cause internal damage.
The unit's relief valve limits the pump's maximum pressure and pressure can be adjusted to match tooling requirements. An in-shaft control pendant comes standard and allows operators to vary flow and pressure as needed. The unit is compact and portable on the project site and sized for quadcon container storage in colder climates with dimensions of 58-in. (1,473 mm) (h) x 88.25-in. (2,241 mm) (l) x 46.5-in. (1,181 mm) (w).
Contact
Akkerman
58256 266th Street
MN 55918 Brownsdale
United States
Phone:
+1 (800) 533 0386
E-Mail:
akk@akkerman.com
Internet:
To website