Insituform® completes first installations in Poland
Insituform® Sp. z.o.o., Insituform's Polish subsidiary, recently completed its first series of pipeline rehabilitation installations utilizing Insituform cured-in-place-pipe (CIPP). Insituform® Sp. z.o.o. was formed in early 2006 and has a staff of eight people including Rafal Chart, district manager, Piotr Dmowski and Piotr Stawinski, business development, Malgorzata Ptaszek, office manager and four crew members.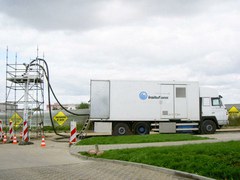 This sequence of installations included work in the following areas:
Kruszwica (DN 200/4.5 mm, L=504 m in 3 shots, longest 207 m)
Gorzow Wielkopolski (DN 300/6 mm, L=197 m in 1 shot)
Garwolin (DN 1000/24 mm, L= 127 m in 1 shot)
In addition to these installations, further scheduled work includes Nowy Tomysl (DN 200/4, 5 mm, L= 364 m in 3 shots), Sochaczew (DN200-500, L= 3010 m) and a recent tender (DN 1000, L=375 m).
The Sochaczew work will be completed with the cooperation of a crew from the United Kingdom. Other installations for 2006 include 1.8 km of 500 mm diameter Insituform CIPP and 1.2 km of 250 mm and 300 mm diameter Insituform CIPP.
In 2007, Insituform
®
Sp. z.o.o. will continue work with sewer pipeline rehabilitation and also expand into drinking water and culvert rehabilitation. Plans are in place to bring in additional staff and new equipment to support the increased efforts.
"We're very excited about these installations," said Rafal Chart, district manager. "Not only are they the product of months of dedicated work, they represent the beginning of what we hope will be many rehabilitation efforts for both sewer and water."
About Insituform®
Insituform Technologies
®
, Inc. is a leading worldwide provider of proprietary technologies and services for rehabilitating sewer, water and other underground piping systems without digging and disruption. To learn more information about the Company, visit
www.insituform.com
.
Further information:
Insituform® Media Relations
17999 Edison Avenue
Chesterfield, MO 63005
Phone: (800) 234-2992
Email: cmcdonald@insituform.com
Web: www.insituform.com