inge watertechnologies AG donates ultrafiltration modules to treat drinking water in Pakistan
Catastrophic flooding in Pakistan has pushed the population's need for clean drinking water even higher up the agenda. The German ultrafiltration specialists inge watertechnologies AG were already an established supplier of ultrafiltration modules in the Pakistan market when the flooding hit, and the company has now been using its existing contacts to ensure that the modules it is donating to five water treatment plants arrive safely.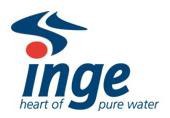 Clean Drinking Water for All (CDWA) is a project that was launched by the Pakistan government with funding from various development aid organizations before the floods struck. Its goal is to improve the country's drinking water situation by installing modern drinking water plants in all 35 provinces. Work has already begun on some of the 6,000 plants that are planned, and the government hopes to eventually install a total of between 20,000 and 30,000 plants spread across all the provinces. In Pakistan's largest province, Punjab, 1,600 plants are scheduled for construction, each of which will employ modern methods of ultrafiltration, a membrane process used to treat drinking water, process water, wastewater and sea water. This technique uses extremely small-pore filters to remove suspended solids, viruses, and bacteria from water using purely physical means – without requiring the addition of chemicals.
The German global market leader KSB, which has been successfully doing business in Pakistan through a subsidiary for decades, is one of the partners involved in the CDWA initiative. It placed its initial order for 800 ultrafiltration modules to equip its new treatment plants with the German company inge watertechnologies AG. Based in Greifenberg near Munich, inge watertechnologies AG is regarded as a global technology leader in the field of ultrafiltration. Hundreds of plants around the globe are equipped with its patented, German-made technology.
The modules the company produces operate at a capacity of either 2,000 or 4,000 liters of water per hour, enabling a treatment plant to convert a total of approximately 50,000 m³ of water into clean drinking water each day. KSB is now donating the construction of a further five plants, which inge watertechnologies AG will be equipping – at no charge – with ultrafiltration modules. This will enable a further 20,000 liters of water to be converted into clean drinking water each day.
Bruno Steis, CEO of inge watertechnologies AG, comments: "With the country going through such a tremendously difficult time, we hope that our technology can make a small contribution towards helping people in Pakistan get access to clean drinking water."
The company inge watertechnologies AG www.inge.ag, based in the town of Greifenberg near Munich in Bavaria, Germany, employs more than 80 staff and is the world's leading provider of ultrafiltration technology, a membrane process used to treat drinking water, process water, wastewater and sea water.
With a global reach enhanced by its network of partners, the company has completed numerous reference products around the globe featuring its cutting-edge technology. Its range of products include highly-efficient ultrafiltration modules and cost-effective, space-saving rack designs as the core components of water treatment plants, rounded off by the superb technical support it provides to its customers.
All the company's products are based on the in-house development of its patented Multibore
®
membrane technology, providing the top-quality standards for which German-made goods are famous. The extremely small-pore filters of the Multibore
®
membrane reliably intercept not only particles, but also microorganisms such as bacteria and viruses, thereby providing a dependable source of clean water. Deployment of the inge technology also offers significant advantages over conventional water treatment methods, such as rapid and easy module installation and stable, highly resilient membranes. This makes planning a water treatment facility much simpler, enabling customers to achieve low-cost installation and operation. And all this comes with a guarantee of long-lasting reliability.
inge watertechnologies AG
Flurstraße 27
D-86926 Greifenberg
Deutschland / Germany
Phone: +49 8192 / 997-700
Fax: +49 8192 / 997-999
E-Mail: info@inge.ag
Internet: www.inge.ag