Infrastructure expert drives forward major Thames Water projects
Thames Water has appointed UK infrastructure specialist David O'Reilly as its new Managing Director of Major Projects.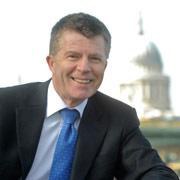 David's responsibilities include delivering the London Tideway Tunnels two new major interceptor sewers proposed for London which will help prevent millions of tonnes of sewerage from entering the River Thames.
Billed as one of the most challenging engineering feats of modern-day London, the scheme builds on the sewerage system masterminded in the 1860s by Sir Joseph Bazalgette following the 'Great Stink' of 1858.
David O'Reilly said: "The London Tideway Tunnels are critical to ensuring London has the basic infrastructure it requires to continue to function as one of the world's leading cities.
"The Lee and Thames tunnels will help make the River Thames cleaner and healthier and I'm thrilled to be involved in a project that will transform London's iconic river for generations to come."
David, a fellow of the Institution of Civil Engineers with more than 30 years' experience delivering major infrastructure projects across the UK, is also responsible for major extensions to the UK's largest sewage treatment works at Beckton in East London. He is also overseeing the introduction of Britain's first application of reverse osmosis technology to obtain drinking water from the tidal part of the River Thames.
Before joining Thames Water, David led a consortium bid by Amey, Laing O'Rourke and Ferrovial for the £5billion M25 London Orbital Motorway upgrade.
Previously he was responsible for Britain's major railway enhancement projects at the Strategic Rail Authority. At Railtrack he was responsible for engineering and environment for the West Coast Route Modernisation programme.
Thames Water Chief Executive David Owens said: "David is a critical member of the team delivering major improvements to London's water and wastewater infrastructure. The investment programme we have just submitted to Ofwat amounts to £5.5 billion for the next five years alone. David's experience will be invaluable in delivering our largest and most complex projects, on time and on budget, for our 13.6 million customers across London and the Thames Valley."
David succeeds Steve Walker, who, after 19 years of service, is leaving Thames Water to extend his role as an Associate Fellow at Oxford University's Said Business School.
Contact:
Thames Water
Clearwater Court
Vastern Road
Berkshire, RG1 8DB
PH.: 0118 373 8924
M: 07747 644 364
Internet: www.thameswater.co.uk