Improvements in the pipeline for Kingsbridge
A £250,000 scheme to improve Kingsbridge's sewer network started in October.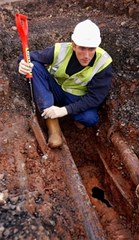 South West Water will be renovating sewers in the town to improve the service to residents. Work starts on Monday 24 October for five weeks, with a second phase of work taking place from January to March 2017, avoiding the busy festive season.
Project manager Andy Young said: "This is a real investment in Kingsbridge's future. Without this necessary work the sewer network will continue to deteriorate. That can lead to collapses - which cause pollution, flooding and odour.
"Where possible we will be using innovative no-dig techniques but some excavations will be necessary. As well as upgrading over 700 metres of pipe, we will also be preventing sea water entering the network during high tides.
"We will be working hard to minimise disruption to the public and businesses as far as possible while completing these essential improvements." 
Councillor Chris Povey, Kingsbridge Town Mayor, said: "It is inevitable that we will experience some road closures and diversions during this essential work to create new infrastructure and these may well feel frustrating.
"However, we have worked closely with South West Water and its partners to confirm that no work will be carried out over the busy Christmas period. Kingsbridge will very definitely stay open for business. I hope everyone will appreciate that a few minutes in a traffic jam listening to your favourite tunes is infinitely better than a jammed sewer system! So, please keep smiling and prove that as the great town that we are, we can take everything in our stride."
Contact
South West Water
Ernesettle Ln
PL5 2EY Plymouth
United Kingdom
Phone:
+44 (0) 800 083 0283
Internet:
To website