Illinois Municipality Replaces Aging Clay Sewer Main with CertainTeed® Certa-LokTM Restrained-Joint PVC Pipe
The Village of Baldwin, Ill., recently made the decision to replace a failing 40-year-old clay tile sewer main with a new 10-inch gravity sewer, featuring 600 feet of CertainTeed® Certa-Lok™ C-900/RJ restrained-joint PVC pipe.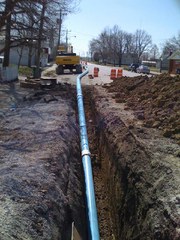 Since the new sewer main had to be installed in a high-traffic area, parallel to a main village street and under a state highway and a set of railroad tracks, Rhutasel and Associates, Inc., of Freeburg, Ill., the village's consulting engineers, chose directional drilling as the method of installing pipe for the new sewer. In order to minimize disturbance to the public and keep costs down, directional drilling was the only realistic option. The engineers specified Certa-Lok C900/RJ pipe for its strong performance in directional drilling applications.
"We specified the Certa-Lok C-900/RJ restrained-joint PVC pipe mainly for its rigidity and ability to withstand stretching that may occur from the pulling force of the directional drilling rig," says Travis J. Liefer, staff engineer for Rhutasel and Associates. "We needed a product that would be able to resist any minor deflections that may be in the actual bore itself. The Certa-Lok pipe met those needs."
Certa-Lok C900/RJ is a performance-proven PVC product, ideal for both water and wastewater applications. Its innovative joining system, which utilizes a high-strength spline to connect pipe lengths, reliably holds the pipe together during installation and pressurization, while elastomeric O-rings provide a dependable pressure seal. More than 35 million feet of Certa-Lok pipe has been successfully installed with trenchless methods since 1991.
The Village of Baldwin hired contractor Korte-Luitjohan Contractors, Inc., of Highland, Ill., to install the gravity sewer main and build a new sewage lift station. The contractor used a VermeerÒ directional drill and a DCIÒ Digitrak F2 Drill-Head Locator with target steering crew to make a 600-foot bore. The bore began at a depth of 14 feet and ended at a depth of 17 feet, meeting grade requirements all the way. The installation took eight days, and the installed pipe was then camera-tested for sags and deflections and passed with flying colors.
"Certa-Lok provides outstanding leak resistance and holds up to the rigors of pipe pullback in directional drilling installations," says Steve Gross, director of R&D and technical services for CertainTeed's Pipe business. "The pipe is easily assembled, without the need for time-consuming and expensive joint fusion. And, most importantly, Certa-Lok requires a much thinner wall than HDPE pipe for an equivalent pressure rating, which significantly cuts material, drilling and operating costs."
Thanks to the use directional drilling, traffic suffered only minor, short-term disruption, and there was no disruption to the railroad, Illinois Highway 154 or businesses in the area. In addition, grading, seeding and roadway repairs were minimized by avoiding open trench installation. The Certa-Lok C900/RJ pipe also helped the project run more smoothly.
"The rigidity of the Certa-Lok pipe eliminated the need for a casing under the railroad and highway areas," says Kevin Korte, directional bore superintendent for Korte-Luitjohan Contractors. "We also found it easy to handle and install. It performed very well for us during the installation."
Contact:
CertainTeed
Michael B. Loughery
PH.: (610) 341-7328
E-Mail: mike.b.loughery@saint-gobain.com
Internet: www.certainteed.com