Igloo a 'game-changer' for sewer training
A new 360-degree Igloo projection theatre is "a game changer" for sewer maintenance training.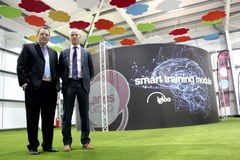 Thames Water and Lanes Utilities' new kit allows teams to instantly see and hear what it is like to be inside a sewer so wastewater engineers can practise tackling real-world and potentially hazardous challenges.Thames Water's Mark Grimshaw, head of wastewater networks for north London, said: "Traditionally, staff induction and training has involved recruits doing a lot of sitting and being presented to. The Igloo breaks that mould. It brings wastewater training into the 21st Century, and is perfect for the millennial generation, brought up on gaming and digital television.
"The aim is to make training and learning much more real, meaningful, interactive and, ultimately, effective. We're very pleased to support Lanes' vision for what the Igloo can achieve." In London, Lanes teams work on the largest and oldest sewers in the UK, overcoming some of the toughest challenges a wastewater engineer can face. Supplied by Igloo Vision, the machine will become a key resource in both induction and refresher training for the 1,300 field operatives and 350 support staff who work on the Thames Water contract.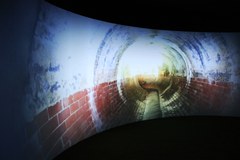 Lanes director Andy Brierley said: "The Igloo acts like a giant virtual reality headset. Up to 15 people can receive sewer maintenance training that's as life-like as possible, without them getting their feet wet. "It will be particularly useful for when we are inducting our people. Keeping everyone safe is our number one priority, so we want our new colleagues to be fully-prepared. It's a game changer in terms of health and safety training." The Igloo will broaden the experience of the entire workforce, from new recruits to experienced engineers, as well as support teams so they have a much greater understanding of what happens in the field.
A series of more than 20 bespoke 360-degree videos of key sewer and drain maintenance tasks are now being created as real-life documentaries to be shown in the igloo. The audio-visual software also allows the creation of multiple interactive scenarios, so trainees will be able to decide what happens next, and learn from the consequences. Lanes Utilities is responsible for delivering planned and reactive maintenance across Thames Water's 110,000km sewer network on behalf of 15 million wastewater customers. Its teams complete more than 1,100 jobs per day on average, including sewer lining, CCTV surveying, civil engineering and blockage investigations. They recently completed the millionth job in just over four years.
Contact
Thames Water Utilities Limited
Clearwater Court, Vastern Road
RG 1 8DB Reading
United Kingdom
Internet:
To website