IFAT 2012: HUBER SE presents innovations that add more value to wastewater
Climate change, demographic development and ever scarcer resources including water have more and more impact on water management. New challenges have to be met in the field of wastewater disposal, wastewater treatment and treatment of the residual materials generated in these processes.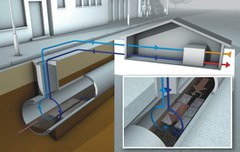 Particularly efficiency of resources and energy as well as energy recovery are aspects that have to be taken into account when developing intelligent and innovative future solutions. HUBER SE have responded to these new challenges and developed several innovative products. These carefully designed solutions are easy to install and operate and provide high economic efficiency whilst maintaining the high quality, long life and technical standards for which HUBER is known.
HUBER will present these solutions and their complete range on 1,000 m² booth area to the visitors of IFAT Entsorga 2012 which takes place in Munich from 7 to 11 May in hall A2, booth no. 333.
HUBER smartMBR – a new range in the service of water recycling
In the world's ever growing cities and in many touristic regions water shortage is assuming alarming proportions for the people living there. Reuse of treated high-quality wastewater is therefore the order of the day. Treated wastewater is frequently the only reliable source for service water as it is a resource of calculable availability. Limiting conditions are in most cases limited space, expensive land, the requirement of noiseless and odourless operation and use of treated wastewater without any health risk. The only modern wastewater treatment system that is able to meet these requirements is the MBR system.
HUBER have responded to this demand with the launch of the 'smartMBR' range of standardised wastewater treatment & recycling systems which provide cost-effective and economical solutions for small wastewater volumes. The smartMBR systems have been carefully designed so they are attractive looking and simple to install and operate, whilst maintaining the high quality and technical standards for which HUBER have been known for many years. The smartMBR systems come in 6 standard sizes, ranging in daily treatment capacity from 10 to 74 m³. They are intended for worldwide use in apartment buildings, office buildings, hotels, etc.
The standardised systems offer best value, quick transport and installation, and easy start-up. The units are completely made of stainless steel to ensure high product quality and a long product life.
HUBER Power Flush® for pleasant smelling sewers
The population is decreasing in some European cities, dry periods are lasting longer and longer and occur more and more often. Each of these factors alone can cause severe problems with unpleasant smells drifting trough the streets and annoying the people living there. But the situation is getting even more dramatic when both occur together. Bad smelling sediments in sewers hide another potential risk that however remains invisible: They are perfect food for vermin and rats. That is why sewer cleaning is obligatory in Germany and is preferably carried out with high pressure.
But due to their high fresh water demand these techniques are not state-of-the-art any more. In addition, they lead to extremely unhygienic working conditions. The newly developed HUBER Power Flush® is the technical solution that now defines the new state-of-the-art technology. The HUBER Power Flush® with its flushing gate removes not only existing sediments very reliably but even prevents future sedimentation. Due to this innovative solution sewer flushing is even independent of storm water impacts. In addition, the frameless flushing gate has been designed very carefully to prevent the formation of plaits or tresses.
The special challenges the design engineers were faced with were to ensure the system can be retrofitted without interrupting sewer operation, the stainless steel flushing gate can be used for all sewer sizes, and the system can be operated even with a minimum of energy – and they have done excellent work and could solve all these problems.
HUBER TubeWin – for heat should not be flushed away
More and more municipalities realise the energy potential that is hidden in their wastewaters but runs off through the sewer system and is lost while they could perfectly use it to heat high-rise buildings or large office buildings. That is why HUBER successfully launched their RoWin Heat Exchanger recently. The HUBER RoWin Heat Exchanger is designed for installation outside the sewer system. But in some cases there are limiting factors which make this efficient outdoor installation impossible: limited space, sewer situation, availability of local heat utilisation. The HUBER engineers have responded to this situation and developed a modular heat exchanger element to continue the triumphant success of 'energy recovery from sewers'. The HUBER TubeWin Heat Exchanger can very easily be installed in the sewer, irrespective of sewer shape and diameter. It is continuously immersed in wastewater whilst preventing sewer clogging caused by materials contained within the wastewater. The complete process of heat exchange takes place in an intelligent way inside the sewer. The system length can easily be extended to meet specific installation requirements.
A heat pump ensures that the energy extracted from the wastewater flow is heated to a useful temperature of 35 to 55 °C. Expensive energy from shower and cooking wastewaters can be returned to the heat cycle of the building. This is not only a benefit for the environment but also easy on the purse of building operators.
HUBER TrashMax® – a screen of the special kind
They normally do their job unspectacularly on all of their 24-hour work days: Year by year, screens ensure problem-free treatment of wastewater on sewage treatment plants. It is only possible to develop a screen which is sturdy enough to do this job if specialist knowledge in wastewater engineering, many years of experience and the expertise of smart design engineers are combined. The new HUBER TrashMax® is a perfect result of such cross-discipline cooperation.
What is spectacular, however, are the screen's innovative details. Its high-quality design minimises the energy demand of the screen rakes which remove all coarse material contained within the wastewater and are able to take up big volumes of material compared to competitive products. Even bulky objects are removed reliably and completely. Efficient and reliable bar rack cleaning ensures high operating reliability, the choice of the right materials for the machine combined with its operation principle ensures that its reliability remains at the same high level for the complete product life.
ROTAMAT® Screw Press RoS 3Q 620 adds value to sludge
Sewage sludge is increasingly becoming the focus of energetic concepts when it comes to produce energy from organic solids contained within wastewater and excess microorganisms not only in the form of biogas. Careful separation of water and sludge is therefore required as first treatment stage for later sludge drying and incineration. Already at this stage the demand for energy and operating media decides about the ecological and economic efficiency of downstream treatment steps. As the composition of wastewater can differ greatly, sewage sludge behaves very differently when it is mechanically dewatered. Many years of experience are necessary to develop technically mature high-performance products with a long life and low demand for energy and chemicals which are able to meet the high requirements of specific sludge properties.
On the basis of the HUBER Screw Press RoS 3Q which has been successful in the market and well known among sewage sludge experts for many years, HUBER have developed the RoS 3Q 620 model which offers all the features for which HUBER screw presses are known and in addition meets the demand for simple maintenance in an optimal way.
Furthermore, the RoS 3Q 620 model excels for its high dewatering degree, low operator attendance requirements and minimised power consumption. With its throughput capacity of 100 to 300 kg DR per hour it is the optimal solution for all wastewater treatment plants designed for up to 50,000 PE.
Contact
HUBER SE
Industriepark Erasbach A1
92334 Berching
Germany
Phone:
+49 (0) 8462 / 201-382
Fax:
+49 (0) 8462 / 201-389
E-Mail:
marketing@huber.de