Hundreds of tons and tenths of millimetres
VMT GmbH celebrate 20 years of innovation and expertise in tunnel and precision survey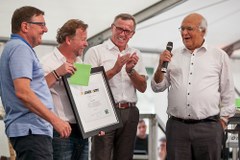 VMT GmbH located in Bruchsal (southern Germany) celebrated their 20th anniversary on June 7th, 2014. Together with friends and partners from all over the world, Manfred Messing, co-founder and General Manager, looked back on an extraordinary history of success. Started as a two-man company, VMT have established themselves as a technological leader in navigation and data processing systems for tunnelling as well as a recognised expert in industrial survey.
Bruchsal, Germany, June 9th, 2014.
A tunnel boring machine has been eating eleven kilometres through alpine rocks for more than three years. At a diameter of 9.43 metres and having a weight of more than 200 tons, it hits the target accurately to the centimetre. An Airbus A320 aeroplane has a wing-span of 34.1 metres and a take-off weight of up to 93.5 tons. During manufacturing and assembling the aeroplane, tenths of millimetres are of importance to ensure profitability in the factory and passenger safety in the air. Between these poles, VMT GmbH Gesellschaft für Vermessungstechnik located in Bruchsal (southern Germany) have been operating since the company was founded by Manfred Messing and Dr.-Ing. E.h. Martin Herrenknecht in 1994. On Saturday, June 7th, 2014, the 20th company anniversary was celebrated at the headquarters, together with employees, project and cooperation partners as well as friends from all over the world.
Navigation systems for tunnel boring machines are the most prominent line of business of VMT GmbH. VMT design and provide laser and gyro controlled systems for building large tunnels as well as smaller diameter tunnels (microtunnelling) that guide the way for tunnellers all over the world. This is the basis for the close partnership with the Herrenknecht parent company, the world leader in mechanised tunnelling technology. In the founding year, VMT supplied navigation systems for a water tunnel project (Ø 2.62 m) in Zurich/Switzerland and for advancing the Jubilee Line in London/UK (underground railway, Ø 5.14 m), for which Herrenknecht tunnel boring machines were used.
Company history.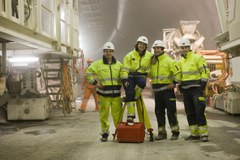 Since that time, the company has continually grown in terms of the number of employees and sales figures and new divisions have been established. The rented flat in Ubstadt-Weiher, a community located north of Bruchsal, which was the origin of everything, could not keep up with the growth soon. In 2000, Manfred Messing and his team moved to the current site in Bruchsal, Stegwiesenstraße 24. The threshold of 20 employees who earned a turnover of EUR 2.7 million was exceeded in 2001. Similarly, subsidiaries were founded in Shanghai (2006), Melbourne (2008), Moscow (2009), and Seattle (2011) due to growth and internationalisation of the project business. For 2013, the VMT Group records show more than 200 employees worldwide, of which 119 are working in Bruchsal, and a EUR 29 million turnover.
Product portfolio.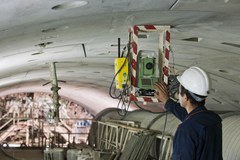 Developing hardware and software for precisely navigating a vigorously vibrating 200 ton tunnel boring colossus through the rocks is considered the highest level of engineering. Pinpoint control of a smaller diameter machine in microtunnelling requires the same precision when this machine must pass several sharp bends on its way to the target shaft. Page 2/2 The system that was named "SLS-RV" by VMT in a matter-of-fact manner and had its premiere in double-bend tunnelling in Heidelberg/Germany already in 1996.
To continuously develop the navigation systems and to expand the product range for tunnelling, Manfred Messing brought in highly specialised partners such as, e.g., Qbit GmbH of Michael Bläsi and ITC Engineering GmbH & Co KG. Today, VMT GmbH have a product portfolio for tunnelling that by far extends beyond navigation and incorporates navigation into a comprehensive system for more quality assurance, advancing efficiency, budget compliance, and safety at work. In this respect, the future of the VMT GmbH is represented, for example by the tunnel project for the underground railway line B in Mecca/Saudi Arabia. The Bruchsal crew supplies a complete set of their equipment for navigating the tunnel boring machines as well as for information management, process monitoring, and communications at the large construction site.
For the most recent business segment of VMT GmbH, which is mining, the engineers have to rethink by 90° from horizontal to vertical. In Canada, a project-specific adaptation of the TUnIS navigation system is run at the moment. It is used to navigate two Herrenknecht shaft boring machines which vertically drive shafts of diameters of up to 10.6 metres down to depths of up to 1,000 metres. Prototypes of other products are currently being designed and tested for applications in the area of valuable raw materials production.
Industrial survey division.
A VMT devision that is only slightly younger than tunnelling is industrial survey. The starting signal was given when the precision survey of a shield for a tunnel boring machine was performed and during a follow-up project during which tunnelling moulds were checked for dimensional accuracy. Furthermore, proprietary innovations as well as cooperations with specialists such as New River Kinematics (USA) enabled VMT to establish themselves on the market for measuring services and highly sophisticated survey equipment. Major references are the survey of the Airbus final assembly in Tianjin (China) or of rotors for wind turbines.
Global and regional activities.
Manfred Messing and many of his employees have their packed bags alongside their desks in Bruchsal, ready for the next business trip that is quite sure and will be due very often at short notice. Therefore, projects located in the neighbourhood are quite popular: a microtunnelling project for a teleheating line and the "Kombilösung" large-scale project in Karlsruhe/Germany which includes a city tunnel for the metropolitan railway.
Contact
VMT GmbH
Katharina Meixner
Stegwiesenstraße 24
76646 Bruchsal
Germany
Phone:
+49 7251 9699207
Fax:
+49 7251 969922
E-Mail:
k.meixner@vmt-gmbh.de
Internet:
To website