Huffman Engineering Shared Expertise in Automation Infrastructure Solutions for Water and Wastewater Facilities at CRWA's 37th Annual Conference and Exhibition
Leading water/wastewater control systems integrator Huffman Engineering, Inc. attended Colorado Rural Water Association's 37th annual conference and exhibition in Denver, CO February 12-15, 2018.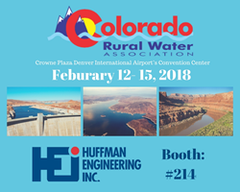 Huffman Engineering, Inc., a leader in control systems integration with offices in Nebraska and Colorado, attended the 37th Annual Conference & Exhibition by the Colorado Rural Water Association (CRWA). The CRWA Conference and Exhibition was held at the Crowne Plaza Denver International Airport's Convention Center February 12-15, 2018.
Huffman Engineering did have a display at booth 214 near the center of the CRWA Exposition. The company showcased their extensive expertise in the design and implementation of turnkey automation infrastructure solutions for water and wastewater facilities.
For over 30 years, Huffman Engineering has served as a trusted technology and services partner to water industry professionals throughout Colorado and Nebraska.
Huffman Engineering is the single-sourced subcontractor responsible for designing and installing the instrumentation and controls on a section of a major, 22-year, 74-part wastewater improvement project for the City of Omaha, and recently completed a major renovation project at a 125-year-old water treatment plant, also in the metropolitan Omaha area, which included PLC and SCADA control system upgrades with no downtime for installation.
"Municipal utilities are facing the dual challenges of aging infrastructure and increased regulatory requirements," said Howard Huffman, CEO of Huffman Engineering. "Huffman Engineering's experience with complicated and difficult upgrades in this industry puts us in a unique position to share our knowledge with CRWA members and conference attendees."
Evan Kilgore, senior electrical engineer and head of Huffman Engineering's Denver office, was on hand to answer questions related to municipal utility upgrade projects. "We look forward to discussing the many benefits to upgrading water and wastewater plants to intelligent infrastructure technologies," said Kilgore. "Those benefits include improved network security, optimization and measurement of productivity, analysis of critical operational data, automated regulatory documentation, management of facility costs, and more."
The CRWA conference offered an exhibition floor with vendor booths as well as exam-preparation training sessions in water, wastewater, collection, distribution and management of municipal water/wastewater utility systems. In addition, conference attendees could have participated in a banquet and awards recognition dinner with entertainment and raffle prizes.
Huffman Engineering has a 30-year history of delivering large-scale system integration projects for highly regulated industries which require clients meet stringent regulatory requirements. Whether it is meeting requirements for FDA, EPA, or projects involving hazardous locations, Huffman Engineering builds robust reliable automation systems.
About Huffman Engineering, Inc.
Huffman Engineering, Inc. is a CSIA Certified control systems integration company offering turnkey engineering design and control systems integration services to manufacturing and utility customers. The company's highly-skilled team of electrical, mechanical, control systems, and chemical engineers, and experienced technicians practice a proven, results-driven project methodology to consistently deliver optimal industrial automation solutions. Based in Lincoln, Nebraska with a second office in Denver, Colorado, Huffman Engineering has served Colorado and the Midwest since 1987, specializing in pharmaceutical, life science, machine, and utility process control applications.
Contact
Huffman Engineering, Inc.
5301 N. 57th St.
NE 68507 Lincoln
United States
Phone:
+1 402 464-6823
Fax:
+1 402 464-6892
E-Mail:
info@huffmaneng.com
Internet:
To website