Hradil Spezialkabel presents the world's first permanently break-resistant pushrod cable
May 27, 2013
TV-Inspection
Frequent repairs due to cable breakage are a thing of the past with the new HRADIL HB44® pushrod cable. This makes it possible to achieve annual cost savings of up to 1,000 EUR. Field trials carried out by Stuttgart University have confirmed the breakthrough. The HRADIL HB44® pushrod cable can be used with all standard CCTV pushrod systems.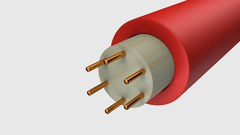 The new HB44® pushrod cable from HRADIL Spezialkabel, Bietigheim-Bissingen, was presented to the public after two years of intensive R&D work. The background to this technical breakthrough is a brand new combination of the materials within which the copper wires (e.g. 0.16 mm copper wire) lie. Despite its permanent break resistance, a HRADIL HB44® pushrod cable with a diameter of 5.3 mm, for example, is significantly thinner and also lighter and more flexible than a conventional 6-core pushrod cable with a diameter of 8.0 mm. Stress tests at Stuttgart University have confirmed the break resistance of the new HRADIL HB44® pushrod cable.
New fields of application for robotic CCTV sewer inspection
The enormous stability of the HB44® pushrod cable means that with a much smaller cable diameter it can build up the same pressure as a conventional pushrod cable. Dirk Bauer, Sewer Technology manager, explains the practical advantages that this "Even with bigger camera probes, such as the swivel type, pushing properties are improved and bending radii are considerably tighter." A further advantage: Because the cable is lighter in weight and has a smaller diameter, longer lengths fit on the cable drum, so extra cable is readily available for use.
Cable breakage is virtually programmed into conventional pushrod cables
The problem is only too familiar. Pushrod cables break regularly under high mechanical strain. There is a rule of thumb that after cables has been in use for 3/4 of a year, breakage starts to occur more frequently. As a general rule, a conventional cable will break every three months, usually in the metres directly behind the camera head – where the mechanical load is at its peak. The pushrod cable must then be cut at the point of the break and the plug reattached. That can easily take up 2-3 working hours – apart from the annoying downtime involved. Dirk Bauer has done the calculation: "If you assume that a conventional pushrod cable has an average service lifetime of 2–3 years, that can quickly add up to 8 repairs. At an average cost of about 250 EUR per repair, that would mean 2,000 EUR or 1,000 EUR a year. Using the Hradil HB44® pushrod, the same calculation will add up to zero!"
New versions of the HB44® pushrod cable will soon be ready for market launch
Hradil's current HB44® pushrod cable has 6 conductors. Alternatives with 3, 4 and 8 conductors will soon be available. By autumn 2013 Hradil will be able to provide a new optical fibre version.
Contact
Hradil Spezialkabel GmbH
Steinbeisstraße 4
74321 Bietigheim-Bissingen
Germany
Phone:
+49 (0) 7142 / 78891-0
Fax:
+49 (0) 7142 / 78891-22
E-Mail:
info@hradil.de
Internet:
To website