Hose pump automates effluent sampling at Thames Water
A Bredel APEX15 hose pump from Watson-Marlow Pumps Group has been installed at Thames Water's Mogden sewage treatment works (STW). Thanks to the APEX15, final effluent samples can now be collected automatically before transfer to the lab for testing.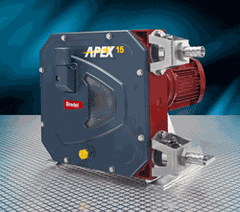 The Scope
Mogden STW in Isleworth, Middlesex, serves around 2.1 million people. In 2013, Thames Water completed a £140m upgrade to extend the site's sewage treatment capacity by 50% Later that same year, Thames Water also wanted to update its effluent sampling process. "There was a clear business need to replace the manual method of collecting treated effluent samples," explains Mike Westbrook, SES Project Engineer. The Bredel APEX15 hose pump is now used daily to take a final sewage effluent sample at 6m suction lift for laboratory testing. The flow rate is 2 litres per minute.
Proven performer
"The APEX15 was specified by the Thames Water sampling team as they had used it successfully at Long Reach STW in Dartford, Kent," says Mr Westbrook. "It's robust self-priming and dry running capability suits our application. The pump has performed well since it was installed in November 2013."The Bredel APEX15 is designed to suit all dosing, metering and transfer applications from 2.8 - 1200 litres per hour flow across a broad range of applications. Unlike other pump types, APEX hose have no expensive wearing components such as seals, valves, membranes, stators, rotors or glands. Subsequently, they are ideally suited for handling 'difficult' fluids – abrasive, corrosive, viscous, shear-sensitive, crystallising or even fluids presenting a combination of these properties.Through superior heat dissipation, precision machined hose elements and optimised hose compression, APEX has been designed to reduce maintenance costs dramatically in comparison with other hose pumps.
Contact
Watson-Marlow, Inc
37 Upton Technology Park
MA 01887 Wilmington
United States
Phone:
+1 800-282-8823
Fax:
+1 978-658-0041
Internet:
To website