Horizontal Directional Drill arrives in Malta as part of Interconnector works
Jun 04, 2013
Installation of lines
Works on the Interconnector project are advancing according to plan and at the beginning of last week, people going through the Coast Road managed to get a glimpse of a Horizontal Directional Drill (HDD) which was brought to Malta as part of the works currently being done ahead of the Interconnector.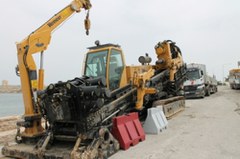 Drilling with the HDD is expected to start in the coming days at Qalet Marku bay.

The HDD (Horizontal Directional Drilling) operation will be performed by a drill machine placed on land in an area dedicated for the plant and ancillary equipment. Pilot hole drilling will be performed by pushing a drill head connected to a hollow High Density PolyEthylene (HDPE) pipe, into the ground at a small angle from land towards the sea. Sections of mountable drilling rods are added and pushed following a defined path.

A culvert will be on the land's side, from the substation and down to the landfall by the sea.

Horizontal Directional Drilling shall be performed for an approximately 213m long HDPE pipe from the end of the culvert and out to sea.

The subsea exit point for the drilling will be at 4.5 meters water depth, approximately 106 meters from shore. A barge will then be positioned outside the exit point for assistance during the pilot drilling and reaming operation.

During installation, the submarine cable will be pulled through the HDPE pipe and up to the substation.

The reason for performing Horizontal Directional Drilling instead of conventional trenching is to reduce the environmental impact at the landfall, both on the beach and at sea. Apart from being an environmentally sensitive technique, which does not affect marine life, this method will also ensure no disruption to traffic along the Coast Road.
Contact
Enemalta Corporation
Triq Belt Il Hazna
1571 Marsa
Malta
Phone:
+356 212 236 01
Internet:
To website