Honor to whom Honor is Due: Dietrich Stein Trenchless Outstanding Contribution Award was Allocated for the Second Time
During awards ceremonies where the prize itself is honoring a prominent character, the celebration is twice as big. The son of Prof. Dr. Dietrich Stein, Dr.-Ing. Robert Stein, congratulates Dr. Yueping Sun on his win at the 9th International Conference on Pipelines and Trenchless Technology (ICPTT) in Ningbo, China.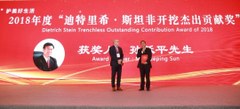 The installation of supply- and disposal pipelines and sewers using the open trench method is since decades a worldwide trend. The term "trenchless" is likewise en vogue – those who pride themselves with modernism build their underground infrastructure using the trenchless method.
But even and especially new approaches need specialist expertise for successful trenchless construction. In order to honor pioneering professionals and help to build a wide network of know-how in the field of trenchless technology, the China-U.S. Joint Center for Trenchless Research & Development awarded the prize in October 2018 for a second time.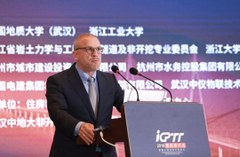 The event's organizer, Prof. Dr. Baosong Ma of China University of Geosciences, welcomed the heightened interest in the trenchless approach as well as Dr. Robert Stein as a speaker in Ningbo. The son of Prof. Stein lectured on drain and sewer systems as an essential part of the municipal assets requiring sustainable and efficient management. The event at Pan Pacific Hotel was a striking success for initiators, prize winners as well as speakers and visitors.
Naming the award after Prof. Dr.-Ing. Dietrich Stein was an easy task. In his position as a professor at Ruhr-University in Bochum, Germany, he took on a position as pioneering professional himself when stating in the early 1980s problems of infiltration of groundwater and exfiltration of wastewater in drain and sewer systems.
As the author of the international standard reference book in pipeline management- "Rehabilitation and Maintenance of Drains and Sewers" – he places an emphasis on supporting and teaching talented people and sees the development and mediation of knowledge as an elementary cornerstone of engineering practice.
His technical books on the modern method – "Trenchless Technology for Installation of Cables and Pipelines" and "Horizontal Directional Drilling (HDD)" – are accessible online via the knowledge network www.UNITRACC.com. The platform was established by Dr.-Ing. Stein & Partner GmbH in 2003.
UNITRACC stands for Underground Infrastructure Training and Competence Centre and conveys the world's biggest independent information and training knowledge network for the subjects of pipeline construction, pipeline maintenance, and pipeline management.
Contact
S&P Consult GmbH
Dr.-Ing. Robert Stein
Konrad-Zuse-Str. 6
44801 Bochum
Germany
Phone:
+49 234 5167 110
Fax:
+49 234 5167 109
E-Mail:
robert.stein@stein.com
Internet:
To website