Hobas® at the No-Dig Istanbul 2015
From September 28 to 30, the ISTT's 33rd annual International No-Dig Conference and Exhibition will be held at the WOW Convention Center in the vibrant Turkish capital Istanbul. HOBAS Experts will offer first-hand advice at the German Pavilion and present three exciting papers on trenchless innovations and achievements with GRP Products.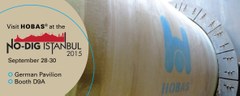 As urbanization increases in the metropolitan cities of Turkey and many new pipeline installation and rehabilitation works are to be dealt with, trenchless technologies are becoming ever more important for local and central governments. And trenchless is not a new concept for Turkey - the country can already look back on a 20-year history of using this technology. Good reason for the ISTT to choose the country's capital and most populous city Istanbul as location for the society's 33rd International No-Dig Conference and Exhibition. Bringing together industry professionals from all over the world, the program will once again provide a mix of technical sessions, and a lively and informative exhibition of the very latest No-Dig technologies and products.
HOBAS will provide valuable contributions throughout the entire event: At Booth D9A at the German Pavilion, HOBAS Trenchless Experts will offer first-hand advice and present high-performance solutions with GRP jacking and relining pipes. And that's not all: On September 29, visitors of the ISTT conference can benefit from two specialist HOBAS Presentations. At 11:30 a.m., Gerald Krapesch will talk about "Considerations for Deep Sewer Installations with Microtunneling". On the same day at 2 p.m., Victor Vladimirov will discuss a highly successful HOBAS Jacking Project with the presentation "Comparison of CO2 Emissions from Trenchless and Open-Cut Methods: Installation of a OD 3000mm Diameter Pipe for Project Czajka in Warsaw, Poland".
On September 30 at 2 p.m., participants of the 3rd Microtunneling Short Course will see another HOBAS Expert on stage: Wasilios Zisis is going to inform about "Pipe Selection and Installation in Microtunneling". Come and visit HOBAS at the No-Dig Istanbul 2015, and learn about trenchless innovations and recent achievements – we are looking forward to meeting you!
Contact
HOBAS Engineering GmbH
Jessica Maier
Pischeldorfer Strasse 128
9020 Klagenfurt
Austria
Phone:
+43 (0) 664 / 443 52 54
E-Mail:
jessica.maier@hobas.com
Internet:
To website