HOBAS Presents Pressure Jacking Pipes OD 3270 and CSO Chamber at IFAT 2014
IFAT, the world's leading trade fair for water, sewage and raw materials management, will open its gates on May 5th to 9th in Munich, Germany. As manufacturer and supplier of top quality GRP Pipe Systems for water, wastewater and industrial applications HOBAS will exhibit its latest innovations at the fair in Hall B6, East Entry.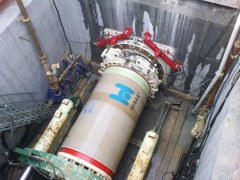 At this year's IFAT, visitors have the possibility to look up to a full-scale pressure jacking pipe with a flush FW jacking coupling, 3270 mm in outer diameter. HOBAS Pressure Jacking Pipes represent a two-in-one trenchless solution for they are designed to withstand high external thrust forces as well as internal working pressure up to at least PN 10. Unlike other jacking pipes on the market, no extra working step regarding a carrier or protective pipes is necessary – which creates an array of cost and time saving benefits for clients. Utilized in pressure jacking projects since the 1980s HOBAS Pressure Jacking Pipes look back on a long track record of success.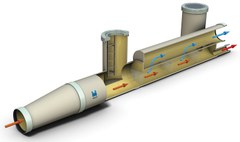 A further highlight exhibited at the booth will be the model of a HOBAS CSO (Combined Sewer Overflow) Chamber. The highly efficient modular system, that HOBAS designed in cooperation with the CVUT University Prague and in compliance with the EU Water Framework Directive 2000/60/EC, works like an ordinary sewer in dry weather but prevents overflows in wet periods.
As usual, also the proven and tested NC (non-circular) pipes for sewer rehabilitation will be exhibited at the fair.
Hall B6, Booth 245/340
Contact
HOBAS Engineering GmbH / Marketing – Graphics & Press
Alexandra Dobnigg
Pischeldorfer Strasse 128
9020 Klagenfurt
Austria
Phone:
+43 664 82 75 822
E-Mail:
alexandra.dobnigg@hobas.com
Internet:
To website