HOBAS Presents its Product Range for Trenchless Installations at No-Dig 2010 in Singapore
The 28th annual international No-Dig conference and exhibition, organized by the International Society for Trenchless Technology (ISTT), to be held in Singapore from November 8th - 10th 2010 will showcase the very best in trenchless solutions attracting visitors from all over Asia & Australasia.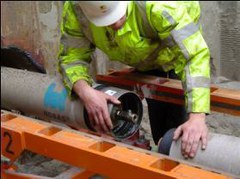 As global player in pipe production and supply HOBAS will not miss out in presenting its product range for trenchless installations at this internationally renowned event. HOBAS Pipe Trenchless Installations include sliplining rehabilitation, pipe bursting, direct jacking, and microtunneling applications. HOBAS Trenchless Pipe Systems have proven their worth for many years and have widely become the favored material in this segment. For instance the unique integrated flush FWC pressure couplings allow pressure pipeline applications without additional measures.
Clients trust in HOBAS Products also when it comes to large diameters; as seen in Warsaw, Poland, where several kilometers of CC-GRP diameter (De) 3000 mm were jacked for a sewer main. To find out more about this specific project as well as the general development of transport infrastructure in Poland and the country's experience with trenchless techniques and CC-GRP materials, visitors are welcome to attend the conference to learn more about these topics from Adam Wysokowski from the University of Zielona Gora, Cezary Madryas from the Wroclaw University of Technology, and Lech Skomorowski Managing Director of HOBAS Poland.
Although pipe rehabilitation has been on the rise for non-accessible areas, the market offered only few solutions for relining large profiles. HOBAS glass fiber reinforced plastics (GRP) have meanwhile filled this market niche with increasingly large prefabricated circular and non-circular profiles (NC Line) that grant old structures a full lifetime with all benefits inherent to HOBAS Products.
Whatever visitors would like to know about the leading supplier of high performance GRP Pipe Systems, competent HOBAS experts are looking forward to exchange knowledge, discuss and to be fire questioned at the HOBAS Booth E07 from November 8th to 10th in Singapore.
HOBAS Engineering GmbH
35, rue Gallieni
92270 Bois Colombes
France
Tel: +33.6.84 04 53 23
Fax: +43.463.48 21 21
Internet: http://www.hobas.com
E-Mail: info@hobas.com
Contact
HOBAS Engineering GmbH
9020 Klagenfurt, Österreich
Phone:
+43.463.482424
Fax:
+43.463.482121
E-Mail:
info@hobas.com
Internet:
To website