HOBAS and Amiantit Europe Join Forces in European Business
AMIBLU headquarters for sustainable water solutions in Klagenfurt

The merger of the European business activities of the Wietersdorfer subsidiary HOBAS and Amiantit Europe (incl. FLOWTITE Technology) was officially closed on Monday, following the approval of the European Competition Authorities (ECA). The two market leading companies for Glassfiber Reinforced Plastic (GRP) pipes have combined forces to form a joint venture company, AMIBLU. An agreement between Carinthia-based WIG Wietersdorfer Holding GmbH and Saudi Arabia's Amiantit Company SAAC, the owner of Amiantit Europe, was reached in December 2016 with the ownership structure shared 50:50 between the partners.
The headquarters of this joint venture is located in Klagenfurt. GRP pipes provide sustainable solutions across infrastructure and industrial applications such as drinking water, irrigation, wastewater, hydropower or industrial plant systems. They feature many important advantages against conventional pipe materials. The brands HOBAS and FLOWTITE each offer distinct benefits as pipeline solutions and AMIBLU will ensure both continuity and growth for the two formerly competing businesses.
Clearer product positioning against traditional materials will accelerate the transition to sustainable pipeline solutions.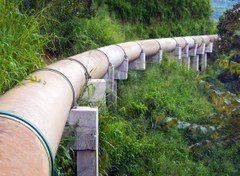 Nick Crofts, the CEO of AMIBLU and Claus Brun, its CCO International and former MD of HOBAS, agree that by merging they can better support the product and market investments required to transform the position of GRP pipeline solutions. This has global implications given the positioning of HOBAS and FLOWTITE Technology customers and licensees around the world.
"Water is a precious resource, fundamental to life. At AMIBLU we believe we can better manage this resource without increasing investment rates. We can offer solutions to wastage, pollution, disruption and inefficiency of pipeline systems today whilst saving capital and operating costs", says Nick Crofts, CEO AMIBLU.
Today's market share of GRP pipe systems does not reflect the value they offer. As expectations of lifetime, reduced maintenance cost and energy efficiency increase, the management expect more customers to turn to AMIBLU solutions. In addition to growth against traditional pipe materials (in particular cast iron, steel, and concrete pipes), there are important infrastructure projects planned over the next 5 years within Europe where GRP solutions represent the best value proposition.
The culture of both businesses is characterized by continuous innovation and an obsession with customer service and satisfaction. By replacing traditional solutions that suffer from corrosion and leakage by the latest composite technology, networks can be highly efficient and clean and last for 150 years. AMIBLU will change expectations of how a sustainable water management network can perform.
Claus Brun, CCO International AMIBLU, adds: "The technological leadership of AMIBLU within GRP water solutions gives us a stronger platform for further international growth, for instance in Asia, Latin America and Africa. We have high growth ambitions and are looking forward to taking on the competition with other technical solutions around the world." The joint venture provides the optimal framework for AMIBLU to put this idea into practice.
About AMIBLU Holding GmbH
AMIBLU, with its headquarters in Klagenfurt, Austria, is a joint venture of the Wietersdorfer subsidiary HOBAS and Amiantit Europe, a subsidiary of Saudi Arabia's Amiantit Company SAAC. The name, AMIBLU, combines the DNA of Amiantit and HOBAS; the company is characterized by a passion for customer service and circular, sustainable economy. With 7 production sites and approximately 1,500 employees, AMIBLU is the world's largest GRP pipe and pipe systems business. Each of the two parent companies holds a 50 percent stake in AMIBLU. AMIBLU's yearly turnover is 220 million euros in addition to its global royalty and licensing agreements.
---
About HOBAS Group
HOBAS is a subsidiary of WIG Wietersdorfer Holding GmbH, a construction materials and pipe system conglomerate, with headquarters in Klagenfurt, Austria. HOBAS stands for competence in glass fiber reinforced (GRP) pipe systems that are produced in Europe and in the USA and sold across the world. HOBAS products are used successfully in the fields of drinking water, waste water, irrigation, drainage, hydropower and various other sectors.
---
About Amiantit Europe and FLOWTITE Technology
Amiantit Europe and FLOWTITE Technology are subsidiaries of the Saudi Arabian Amiantit Company SAAC listed on the stock-exchange of Saudi Arabia. The Group serves municipal, civil engineering, industrial, energy, and agricultural markets worldwide, supporting global infrastructure development.
---
About Wietersdorfer Holding GmbH
WIG Wietersdorfer Holding GmbH is a construction materials and pipe system conglomerate with its headquarters in Klagenfurt, Austria. Its business segments include cement & concrete, lime, GRP pipe systems and thermoplastic pipe systems. Featuring a total of 49 branches in 36 countries, WIG Wietersdorfer Holding GmbH is well represented in the Austrian and international markets through its brands w&p, Salonit, HOBAS, POLOPLAST, IGM and INTERCAL. The Group employs more than 2,800 people in Austria and abroad, is active at 27 production sites and generated a turnover of 512.8 million euros in 2016. The company has been a fully-owned family business since its formation by Philipp and Gottlieb Knoch in 1893.
Contact
Amiblu Holding GmbH
Jessica Maier
Pischeldorfer Str. 128
9020 Klagenfurt
Austria
Phone:
+43 463 48 24 24 1065
E-Mail:
jessica.maier@amiblu.com
Internet:
To website