Herrenknecht S-210 on its way to Sedrun
On Friday, July 6, 2007 and right on schedule at the multifunction section at Faido the Herrenknecht Gripper S-210 started tunnelling its second section in the direction of Sedrun (east tunnel).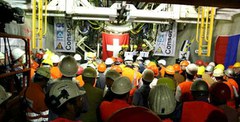 Enlarged in diameter to 9.43m, the TBM faces 12km of hardest rock. It will pass on its way to Sedrun the Priora Zone, one of the most challenging hard rock formations of all.
The start of the S-211 (identical in construction to S-210) in the western tunnel Faido-Sedrun is planned for autumn 2007 in the western tunnel. The Gotthard Base Tunnel will be with 2 x 57km in length the world's longest traffic tunnel. At the Gotthard Base Tunnel the mechanized tunnelling of the main tubes is exclusively done by Gripper TBMs from Herrenknecht. By now, they have driven a total of almost 50km.
Further information:
Herrenknecht AG
Achim Kühn
Head of Department Marketing and Corporate Communication
Schlehenweg 2
77963 Schwanau
Germany
Tel.: +49 (0) 7824 302-540
Fax: +49 (0) 7824 302-473
Email: pr@herrenkencht.de
Web: www.herrenkencht.com