Herrenknecht increases trainee quota
In 2008, Herrenknecht AG has once again created new apprenticeship training positions. 65 young men and women began their working lives in fall 2008 by taking up either an apprenticeship or a cooperative education program. The number of trainees has increased by more than 20 percent compared to the previous year. Herrenknecht is providing training to a total of 178 young people. In spring 2009, the trainees and the team of trainers will be moving into new premises which have a useable floor space of about 2,800 square meters.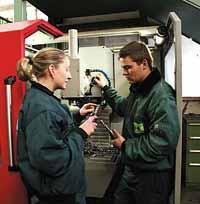 65 young men and women started their training at Herrenknecht in 2008 / 2009. At the present time, the company is providing training to a total of 178 young people (previous year: 134) and, of these, 121 trainees are in the industrial and 37 in the commercial and technical areas. In addition, 20 high school graduates have started cooperative education programs (studies at the university of cooperative education accompanied by on-the-job training), mainly with a focus on commercial aspects of the business. Training junior staff is an important component for Herrenknecht AG in making sure that the company's needs for excellently qualified personnel are met. As such, the company was able to cover its strong growth in personnel numbers in the past years by taking on qualified staff it had trained and educated itself. This 10 percent increase in training places in 2008 means that Herrenknecht AG has exceeded the industry average.
Broad range of products and services.
Training in the industrial professions rests on four pillars. The vocational schools teach the theoretical knowledge. Six experienced specialists and master trainers are responsible for the practical training at Herrenknecht AG. Since the training year 2007/2008, in-house lessons have been taking place on our work premises. In addition to an extension of the theoretical learning contents such as specialized technical subjects or economics, these lessons also teach subjects such as health and safety at work. Additional English lessons introduce the young people to the requirements of a company that operates worldwide. The trainees are then able to deepen and supplement what they have learned in their work in the day-to-day business of the individual specialist departments.
The up-and-coming industrial business management assistants and students from the university of cooperative education gain experience in very different divisions in the company, ranging from supply management via financial accounting and project management, to marketing; the expert training of the technical drawers and IT specialists are guided by the specialized departments Design and IT.
New teaching workshop
In the year 2009, a newly-built teaching workshop will be inaugurated on the company premises of Herrenknecht AG and put into operation. The rooms which have been used up to now no longer offer sufficient space. In 2005, 17 new industrial apprentices started, whereas today this number has risen to 43 apprentices embarking on their course of training. The machinery will be added to and brought up to the state of the art for the new teaching workshop. Klaus Himmelsbach, head of the teaching workshop is looking forward to moving into the new rooms. He will relocate there with his colleagues and the trainers in spring 2009. "We have 2,800 square meters of useful floor space for our training work. What is more, we also have highly-modern equipment to train mechatronics fitters, electronics technicians, industrial machinery mechanics, machining technicians and construction mechanics at Herrenknecht at the highest level in the field of mechanical engineering."
Good chances following successfull training
At Herrenknecht, trainees have excellent chances of being taken on by the company after successfully completing their job training. A bonus system introduced by Herrenknecht internally, which rewards good to very good performances in apprentices' theoretical work with up to two extra monthly salaries per year, offers trainees and students additional incentives. Dominik Faisst, for example, achieved a top performance this year by passing his final examinations as a draftsman, which he sat six months ahead of schedule earning a grade point (A) average.
In line with Herrenknecht tradition, the young people are provided with numerous opportunities to further their training: These range from language courses to support in gaining qualifications as an engineer, draftsman or foreman, or a degree in engineering. At the present time, 13 former trainees are taking part in a funded further training course. Dominik Faisst is among these: He is currently completing his studies in mechanical engineering at the Offenburg University of Applied Sciences supported by Herrenknecht.
Contact:
HERRENKNECHT AG
Achim Kühn
Schlehenweg 2
77963 Schwanau
PH.: +49 (0) 7824-302-0
FAX: +49 (0) 7824-34-03
E-Mail: pr@herrenknecht.de
Internet: www.herrenknecht.de