Herrenknecht giants prepare the way for subterranean lifelines in China's megacities
On the German-Chinese Esplanade in Wuhan, the technology and market leader in mechanized tunnelling presents examples of innovative high-performance technology for the construction of transport and supply tunnels under the motto "Sustainable Solutions".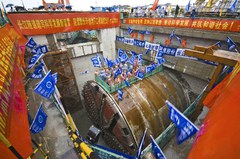 Wuhan, China / Schwanau, Germany: Herrenknecht AG was participating in the German-Chinese Esplanade event took place in the Chinese city of Wuhan from October 23 to 31, 2009. This Esplanade forms part of the event series "Germany and China - Moving ahead together". Under the joint patronage of Germany's Federal President Horst Köhler and China's President Hu Jintao, Germany was presenting innovative solutions to meet the challenges of ongoing urbanization. Herrenknecht showed visitors the contribution that high-quality tunnelling machines are making towards achieving sustainable urban development and mobility. The company supported the Esplanade in Wuhan as a stage partner, as it did three times before in Nanjing, Chongqing and Guangzhou.
Rapidly growing megacities and overused traffic and transportation systems are concomitant effects of economic growth and urbanization in China. Only an infrastructure which grows together with the population can guarantee the quality of life in the cities. Therefore, the extension and modernization of traffic tunnels and efficient supply and disposal systems are a top priority in the Peoples' Republic. With mechanized tunnelling technology Herrenknecht was providing the key technology "made in Germany" to create new links within densely built-up cities. Tunnel construction takes place almost completely underground, without noise and impact on aboveground traffic and people. At the same time, mechanized tunnelling is faster, more environmentally friendly and safer for tunnel workers than conventional procedures (e.g. drill & blast).
Mechanized tunnelling technology from Herrenknecht is opening up new transport and supply channels for several large cities in China. The new construction of Wuhan's subway line 2 is being carried out using Herrenknecht tunnel boring machines. Seven machines are excavating almost 17 kilometers of tunnel. 5 Earth Pressure Balance Shields are crossing beneath inner-city areas, two Mixshields - specialized in multi-layered, highly water-bearing grounds - will cross beneath the Yangtze River. In Guangzhou, the subway network has been constantly extended over the past years. Of a total of approx. 140 kilometers of subway tunnel which are to be produced using Herrenknecht tunnel boring machines (EPB Shields and Mixshields) with diameters of 6.25 meters, more than 105 kilometers have been excavated since 2000.
Herrenknecht supplied the two largest tunnel boring machines in the world with a diameter of 15.43 meters each for two gigantic traffic tunnels in Shanghai. The two colossal machines, with a weight of 2,300 tonnes and a length of 125 meters each, crossed beneath the Yangtze River at a depth of down to 65 meters. The two tubes of the "Shanghai Yangtze Under River Tunnel" provide a connection for the inhabitants of the nearby river island Changxing to the Shanghai city district of Pudong. The two breakthroughs in May and September 2008 respectively, set an international milestone in mechanized tunnelling due to the extremely large tunnel profiles and the corresponding high requirements regarding efficiency and safety. The project also set new standards with respect to the construction time. The two tunnels, each almost 7.5 kilometers long, were completed after only 20 months - 10 and/or 12 months faster than scheduled. The completion of tunnelling work ahead of schedule provides the ideal conditions to open the tunnel on time for the 2010 World Exhibition in Shanghai.
Contact:
Herrenknecht AG
Schlehenweg 2
77963 Schwanau
Tel.: +49 (0)7824 302-540
Fax: +49 (0)7824 302-473
E-Mail: pr@herrenknecht.de
Internet: www.herrenknecht.com