Harper Government Invests in Windsor-Essex Economy
KINGSVILLE, ON - Thirteen small- and medium-sized businesses in the Windsor-Essex area will be expanding their operations and upgrading technology, thanks to the Government of Canada's Economic Action Plan investment of nearly $6.6 million. The announcement was made this morning by the Honourable Gary Goodyear, Minister of State for the Federal Economic Development Agency for Southern Ontario (FedDev Ontario) at Liqui-Force Services in Kingsville.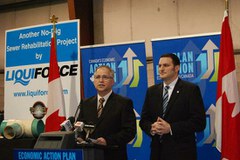 "This government is committed to creating jobs and supporting the people, communities and businesses of southern Ontario," said Minister Goodyear. "Our government's investments in the Windsor-Essex area will help strengthen the economy and give local businesses the resources they need to grow and become more competitive."
FedDev Ontario will provide more than $1.3 million to Liqui-Force, a provider of sewer maintenance and rehabilitation services in Canada and the United States. With this contribution, the company will design and engineer cutting-edge trenchless technology, which allows for the repair of existing underground infrastructure with minimal excavation and disruption. Developing this cost-effective equipment will result in the creation of 5 part-time and 10 full-time jobs at Liqui-Force.
"Thanks to this support from FedDev Ontario, we will be able to immediately advance the development of new trenchless, no-dig pipe rehabilitation technology," said Kim Lewis, Chairman and CEO of Liqui- Force. "These advancements will create jobs and lead to additional cost savings and environmental benefits for the municipalities we service."
These are among more than 60 projects that the Government of Canada intends to support through the general intake of the Southern Ontario Development Program (SODP). For a list of all 13 projects in the Windsor-Essex area, please refer to the backgrounder.
Contact:
Federal Economic Development Agency for Southern Ontario (FedDev Ontario)
Headquarters
101 Frederick Street, 4th floor
Kitchener, Ontario
PH.: 1-866-593-5505
FAX: 519-571-5750
Internet: southernontario.gc.ca

Contact
Federal Economic Development Agency for Southern Ontario (FedDev Ontario)
Internet:
To website