HAMMERHEAD, Manufacturer of Trenchless Products Launches New Website
HammerHead Trenchless Equipment, North America's largest manufacturer of piercing tools, pipe bursting and pipe ramming systems announces the launch of a totally redesigned interactive website this month. The site, www.hammerheadtrenchless.com is designed as a state-of-the-art communications channel between HammerHead and its customers, worldwide.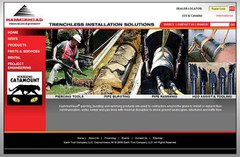 HammerHead President/CEO Brian Metcalf says, "HammerHead has led the industry in bringing innovative trenchless solutions to customers in North America, and around the world. The new website is a step to direct dialogue with those customers wherever they may be, as well as a means of communicating with them on the latest news and technology in the trenchless construction sector."
The new website offers comprehensive, real-time interactive media to educate engineers, contractors, municipalities, and the public at large. It includes coverage of jobs around the world as well as the latest in trenchless technology and methods, and information on the Hammerhead trenchless product line.
Brian Metcalf added, "Contractors and municipalities want a trenchless partner they can trust. Our customers know that HammerHead will provide on-target answers and technical support and advice for all their trenchless projects. And, as always, we promise to be a fair partner to every customer." 
Contact:
Jason Haas
Marketing Manager
HammerHead, an Earth Tool Company
Web: www.hammerheadtrenchless.com
Email: jhaas@hammerheadmole.com