HammerHead launches new ROUGHNECK R400 Pneumatic Rock Hammer System
HammerHead has launched the new ROUGHNECK R400 Pneumatic Rock Hammer system for the underground construction industry. The system includes the R400 air hammer, 5.25-inch straight and offset bits, patent-pending pullback kit, control station/oiler, drill conversion kit and universal HD high-flow rock drill housing. The ROUGHNECK R400 is designed to drill at rates up to 150 feet per hour while providing enhanced steering performance.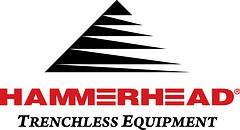 Designed to work with the new HD universal high-flow rock drill housing, the ROUGHNECK R400 allows a directional drill to work in almost any rock condition without changing out the housing. This housing supports the rock hammer by increasing the air distributed to the internal piston. The larger bore diameter of the housing makes the ROUGHNECK hammer run at maximum efficiency, delivering a harder blow at faster impact.
The patented offset rock bit design provides precise steering, allowing the operator to navigate a wide variety of ground conditions. Integrated face-cleaning exhaust ports help prevent plugging of the hammer for reliable performance and the patented check valve located within the bit, eliminates ingestion of debris.
Available for any drill, the ROUGHNECK control station can be installed with a tee and a ball valve on the high pressure side of the mud pump. This feature provides a path for the airflow to be directed into the drilling fluid supply line. The control station utilizes the drill's existing mud pump to efficiently deliver air, oil and fluids down hole, reducing the footprint and weight. Integrated electronics facilitate the drilling operation and provide the operator with control and increased productivity without leaving the drill operator's station.
The new system also continues HammerHead's tradition of designing ease of maintenance into their products. Almost 25 years ago, the company pioneered the development of an easy-to-service piercing tool that significantly reduced the time needed to maintain it. And the new ROUGHNECK system is equipped with patented spanner wrench holes in the front and rear of the hammer reducing the number of breakout jaws required for changing out the bit or servicing the tool.
The ROUGHNECK R400 rock hammer system is available from HammerHead Trenchless Equipment or from authorized dealers, worldwide.
Contact
HammerHead Trenchless Equipment
Jason Haas
1300 Capitol Drive
53066 Oconomowoc, WI
United States
Phone:
+1 (262) 244-0231
Fax:
+1 (262) 567-5068
E-Mail:
jhaas@hammerheadmole.com
Internet:
To website